Podcast: Play in new window | Download | Embed
Subscribe: Apple Podcasts | Android | Email | RSS | More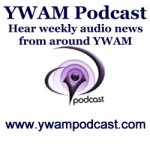 Bill Hutchison gives us an update on Haiti one year later, we talk about the floods in Australia and Brazil, get an update from Amazon Reach in Brazil, and we hear about an exciting way that movies are being used to help teach biblical principles …
Stories:
YWAM Haiti – One Year Later
Australian Floods
Update on YWAM Relief Effort in Brazil
Amazon Reach Video Update
YWAM Africa latest Magazine

Six Lead Stories

Learning from the pioneers
Let's evaluate what we're doing
Disciplining the deaf
The Flame Goes Forward – Celebrating 50 Years
Building Community at the Well
Staff Profile
YWAM Ethiopia – The gift of a bike
Prayer Request from North Africa
YWAM Pittsburgh outreach to Liberia, West Africa

Using the film "End of the Spear" as a video to help teach the need and biblical application for forgiveness
YWAM Thailand – Ruth Centre

Caring for the aging population in Thailand

YWAM Organic next month's stories
Is That Really You, God? available on the Kindle
YWAM Resonate's Writing Workshops happening until the end of March
Check out the resources over at YWAM Life web-site
YWAM Video from 1981 embedded in the show notes

Darlene Cunningham presenting with a cast of children, adults and puppets
Music
Alive by Lugemye

All proceeds from sale goes to the Homes of Hope project in Haiti

Woje – Till Hope Takes Flight
Audible
http://ywampodcast.com/audible for a free 14-day trial, and a free audio book
A bit of fiction this week with me listening to the book "Over Sea, Under Stone by Susan Cooper. It's the first book of the five book "The Dark is Rising" series

I got interested in it as David Cunningham directed the movie "The Dark is Rising", which is the second book in the series.