Podcast: Play in new window | Download | Embed
Subscribe: iTunes | Android | Email | RSS | More
In this episode of the Youth With A Mission News Podcast we will hear from Loren Cunningham about how the Bible transforms nations, we will talk about how you can help the South Sudan Refugees, see what kind of work is happening to rebuild in the Philippines after Typhoon Haiyan, find out about a ministry to disabled in Latvia, and more …
Stories:
How the Bible Transforms Nations – Loren Cunningham
South Sudan Refugee Camp Update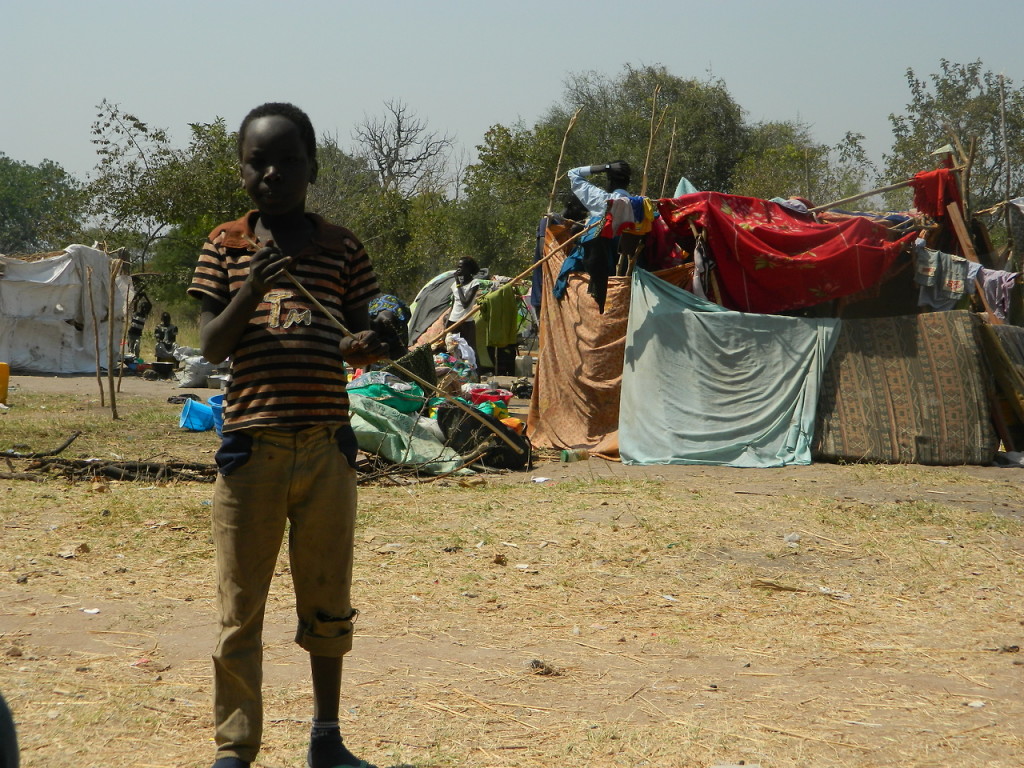 Since the start of the Crisis in South Sudan, YWAM has been involved in South Sudan and in Uganda with the refugees and those affected by the fighting.
https://www.youtube.com/watch?v=tIFWIMgMIKI
In one of the refugee camps that YWAM has visited there are over 11,000 refugees there from South Sudan. There is only one hand pump for all those people, only 9 pit toilets, and just five nurses… (more)
Rebuilding After the Typhoon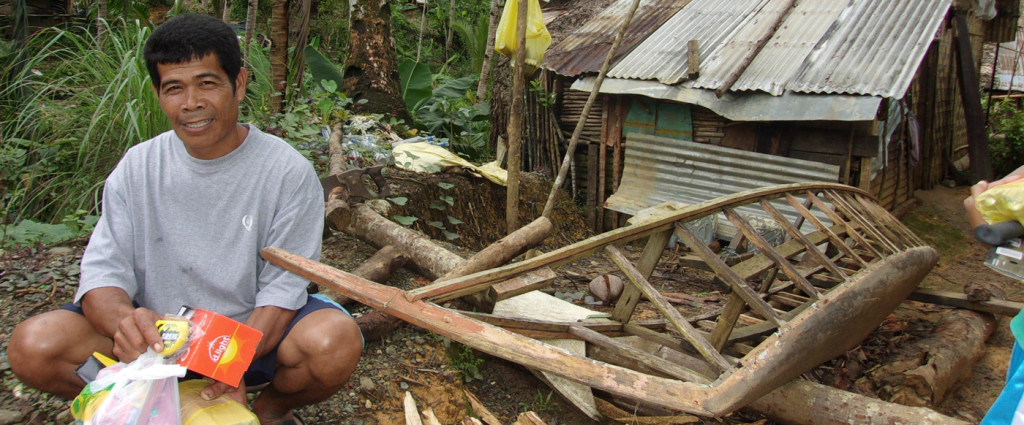 From the beginning of the rebuilding process in the Philippines YWAM has been in the midst of it.
We have been amazed by the Holy Spirit's coordination of YWAM's response. Although communication was severely limited, our local and international teams quickly found locations as well as ways to effectively reach out to the storm victims. It soon became clear that God was leading YWAM to four strategic centers: Tacloban City, Ormoc City, Bogo City in northern Cebu Island, and northern Panay Island. From these centers we can systematically adopt and engage in rehabilitation and restoration of the smaller surrounding communities.
YWAM in the Philippines is feeling that God is leading them not just to the initial rebuilding effort, but to the long-term rebuilding of communities, both practically and spiritually. Typhoon Haiyan not only knocked down many physical walls, but also seems to have knocked down the "spiritual" walls of the people.
There are many opportunities for YWAM teams to go into the Philippines to help with the rebuilding and relief work. The focus areas for the teams are Taclogan, Ormoc, Bogo and Bantayan Island, and Northern Panay Island.
You can find out more about the opportunities to help the relief work in the Philippines on the www.ywam.org.
Gleanings for the Hungry Container to the Philippines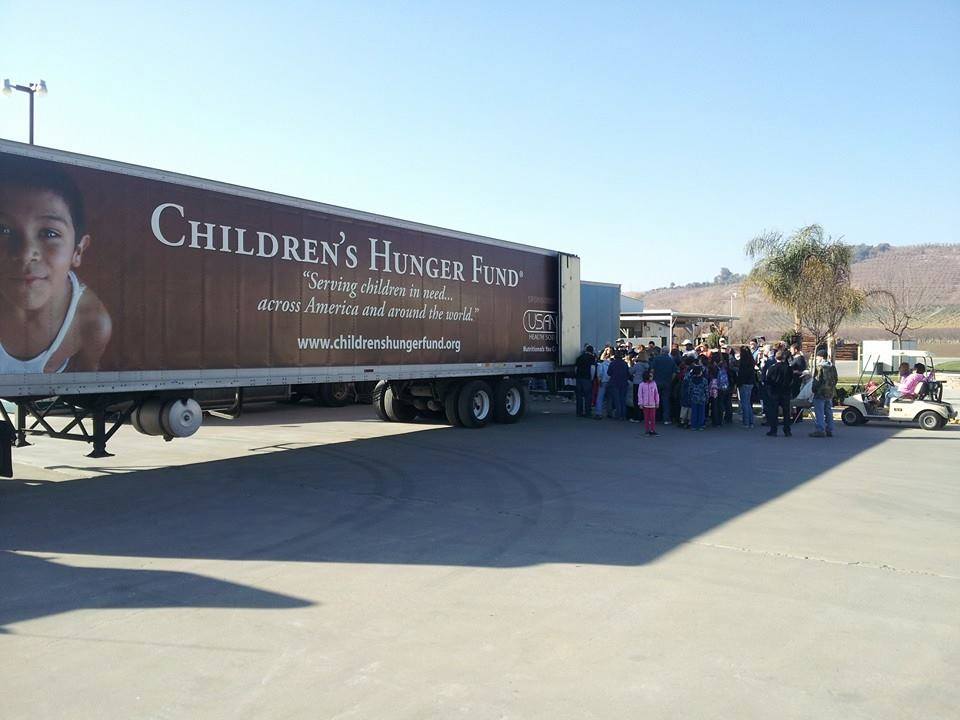 We sent a container out another container today to the Philippines! We are excited to get more soup mix and other food out to them. May God bless the people who receive this food.
Find out more about Gleanings for the Hungry and their ministry on their web-site, gleanings.org, or on their Facebook Page.
Wings for Wheels – YWAM Riga, Latvia
Wings for Wheels is ministry in Riga, Latvia for people with mobile disabilities from age 18-60, who are living in their homes, often 'forgotten' by Latvian society and not getting enough attention from Christian society either.
Wings for Wheels goal is to challenge people with mobile disabilities to come out from their passive lifestyle and to show their abilities to improve their quality of life, which can help them integrate into society. At the same time YWAM is trying to get the attention of Christian society for this field, and to challenge them to reach out for these 'hidden' people group.
You can find out more about this ministry at www.ywamriga.org.
New University of the Nations Catalogue
I am pleased to announce the posting of the brand-new University of the Nations Catalogue 2014-2016. This edition is the first that will not be printed, although the .pdf's have been designed so that anyone needing a hard copy can print it themselves. The costs of shipping and customs go up regularly, and the funds we will economise will go into development of our new Records systems.

The catalogue job has gotten bigger and more complex because of the growth of our University, in all categories. Whereas before we counted 300 schools and seminars, now we have double that, about 300 each of schools and seminars for a total of 600. UofN courses are now in 160 countries, up from 120 which is a 33% increase; we are now in 550 locations, up from 369 in 2008, which is a 49% increase; and we had approximately 16,500 students in 2010, which is a 12% increase from 2008. Of these students, 11,300 were DTS students and approximately 5200 were post-DTS students, that's just under a third of the total. In our schools we used 97 different languages daily.

We count it a privilege to be able to serve our thousands of students as they go into the nations of the world.

Tom Bloomer
This Month on YWAM Organic
On this month's videos over at YWAM Organic you can find out about:
New Beginnings Home – a ministry to young women needing refuge while struggling with life's issues
Mission Builder opportunities around the world
The Shan people in South East Asia
https://www.youtube.com/watch?v=dWdtAHXdI1k
Find out more, and watch the full videos at www.ywamorganic.com.
YWAM Boston Encounter Tour Begins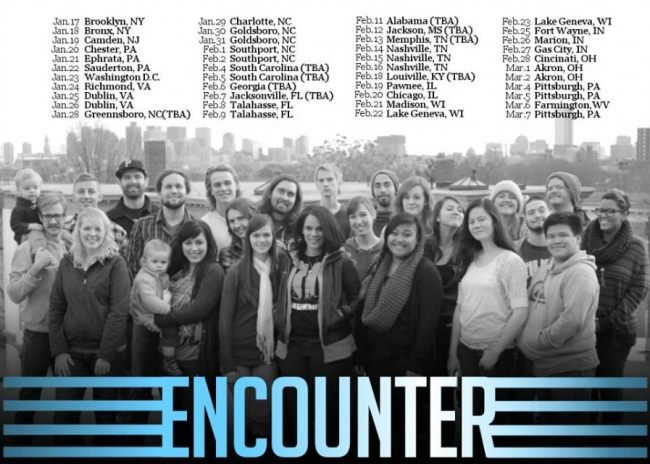 YWAM Boston has begun their Encounter tour with their first stop being in the Bronx. If you are living on the East Coast of the USA this is something that you should try to see.
For the tour the are asking for prayer for:
Safety and health for the team
Strength for the journey
Hearts being surrendered to the King
That Jesus would be lifted up at all the tour stops
Find out where they will be, and what is happening with the tour on their web-site, ywamboston.org.
Take Courage Song from Elevated Music
Elevated Music, a ministry out of YWAM Kona, Hawaii, is coming out with a new single called "Take Courage", by Lindy Conant…
You can listen to the full single, which is now out, lindyconant.com.
YWAM Heidebeek – Destiny by Design Workshop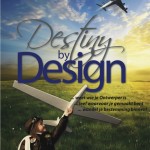 From 23 February – 28 February YWAM Heidebeek in the Netherlands will be hosting the Destiny by Design Workshop
DESTINY by D.E.S.I.G.N. is focused on reaching your full potential the way God has created you. He gave you:
Dreams
Experiences
Soulprint
Identity
Gifts
Network
During the 5-day interactive course you will learn how to combine all these resources to discover your passion and fulfill Gods calling.
Find out more at the YWAM Heidebeek web-site, ywamheidebeek.org.
Retreat Weeks in Malaga, Spain
The Leadership Retreat Centre in Malaga, Spain will be hosting quite a few short retreats this year:
Valentine's Couples Retreat 13 – 17 February
Wives Retreat 27 February – 2 March
Spiritual Formation Retreat 31 March – 4 April
Summer Couples Retreat 17 July – 2 August or 10 – 16 August
They are also running a Leadership Development Course (YWAM LDC) from 27 April – 7 June for 6-weeks of interactive, relational learning to develop participants leadership ability. It is aimed at long term YWAM staff who have five or more years of experience in ministry.
<![if !IE]><![endif]>
You can find out more about what is available on the Leadership Development web-site, www.leader-development.org.
YWAM Chaing Rai, Thailand GOAL Team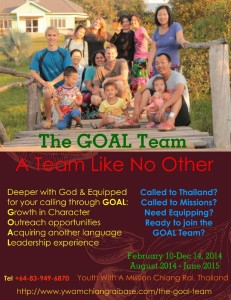 Starting on February 10 YWAM Chaing Rai in Thailand will be running The GOAL Team.
The idea behind GOAL is to raise up Christian leaders and equip them with what they need to fulfill their calling. They do this by focusing on four areas throughout the 40-week program:
Growth
Outreach
Acquiring language
Leadership
Find out more about the course on the YWAM Chaing Rai web-site, www.ywamchiangraibase.com.
Foundations in Education School in Lausanne, Switzerland
YWAM Lausanne, Switzerland starts two new schools in April including the Foundations in Education school and the School of Event Management.
The Foundations in Education School is a three month school designed for help students begin their journey as an educator. The course gives an overview of the physical, intellectual, moral, social / emotional, and spiritual development of children and young people.
Some of the course content includes:
Implications of a biblical worldview in education
Teaching in consideration of different learning styles
Facilitating the healthy growth and development of children
Jesus-style teaching and the role of the Holy Spirit in the classroom
Principles of biblical curriculum planning
The role of education in community development and world missions
School of Event Management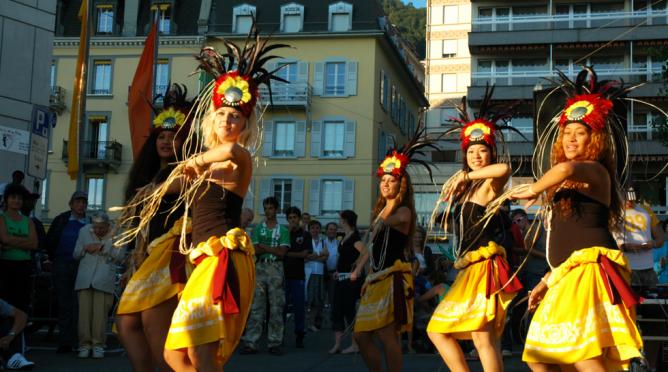 The School of Event Management is designed for students to discover how to execute events that share the Gospel and impact nations. They do this by equipping leaders with the skills needed for successfully planning, managing, and leading others.
Some of the topics to be covered will be:
Programming
Marketing
Backstage management
Sponsorship
Budgeting
Networking
Vision casting
Through the school it's hoped that the students will develop:
Stronger leadership skills and deepened faith
The ability to pioneer new events and programs that will impact communities
Greater effectiveness in leading, planning, and managing events of all sizes
A better understanding of how to build platforms for the Arts
An increased effectiveness in team settings
The ability to multiply effective events leaders who will impact society at all levels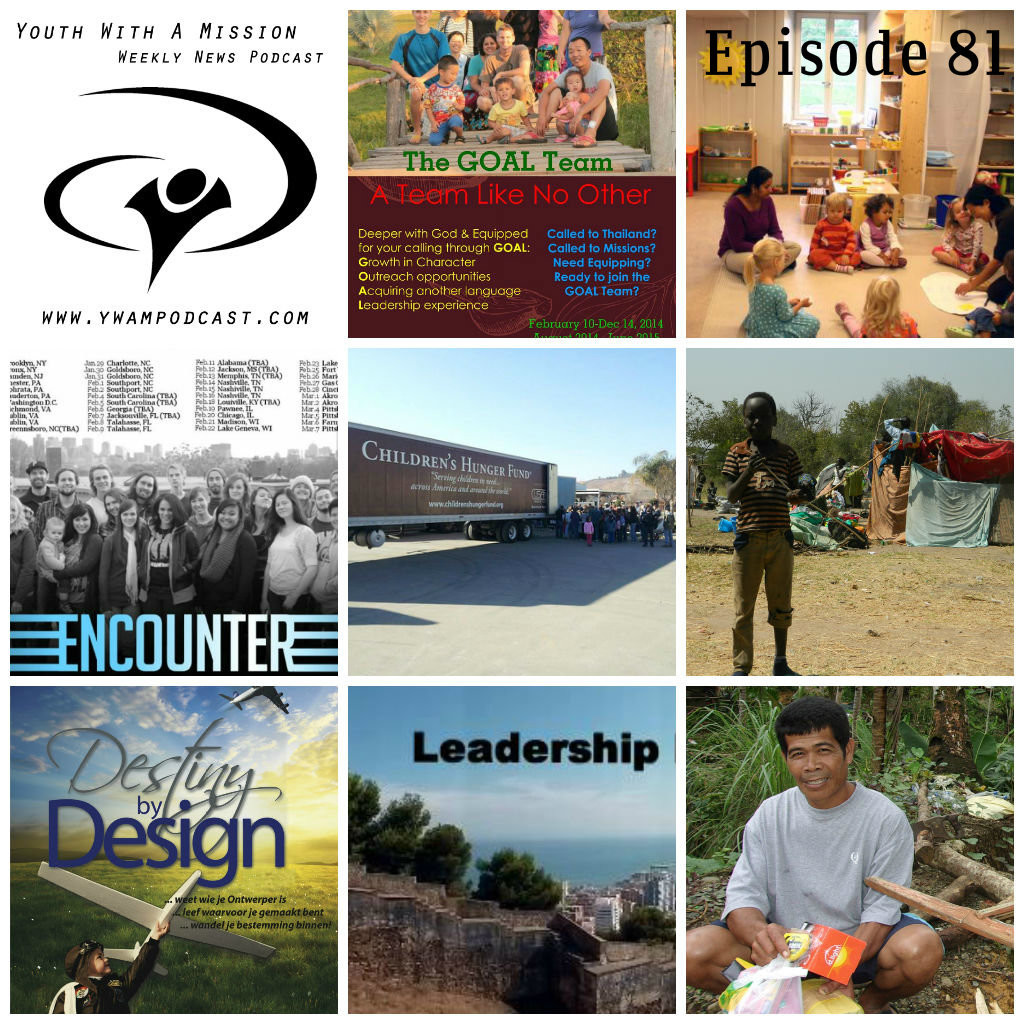 April 4 – June 23 in Lausanne, Switzerland
Review us and Subscribe: