Podcast: Play in new window | Download | Embed
Subscribe: Apple Podcasts | Android | Email | RSS | More
In this episode of the Youth With A Mission News Podcast we will be talking about the next YWAM Megacities project in Kolkata, India, we'll look at what YWAM is doing for their outreach to the 2014 FIFA Worldcup in Brazil, talk about the upcoming University of the Nations Workshop in Mexico, discuss a few upcoming training opportunities, and more …
Stories:
YWAM Megacities Next Target City – Kolkata, India
Our next Megacity is now announced! Kolkata, capital of the Indian state of West Bengal and located on the east bank of the Hooghly river, is East India's principal commercial, cultural, and educational centre. Kolkata was established by the East India Company and was regarded as the second city of the British Empire after London. The urban agglomeration of Kolkata and its suburbs is home to approximately 14.1 million, making it the 3rd most metropolis area in India. As a growing metropolitan city in a developing country, Kolkata has substantial urban pollution, traffic congestion, poverty, overpopulation, and other socio-economic problems.
What is Megacities?
Interesting, random fact:
The Kolkata Football League is the oldest (soccer) league in Asia and one of the oldest in the World. It was started by the British in 1898.
Teams can start arriving in April 2014 for enquiries contact them on www.megacities.org.au.

YWAM Kickoff 2014
Although the Football (soccer) Worldcup isn't until 2014 the YWAM Kickoff World Cup 2014 outreach is starting to gear up for their first outreach. In June Brazil will be hosting the FIFA 2013 Confederations Cup, which is viewed by many as a test drive for the Wordcup next year. The Kickoff team will also be using the Confederations Cup as a dress rehearsal of their own with plans for evangelism, prayer corners, sports camps, and more being planned for the event.
The FIFA Worldcup will be the main event, with a desire for teams to come from all over the world to join in this major outreach.
For the main event during the FIFA Worldcup Kickoff 2014 is wanting to mobilise 64,000 missionaries from around the world to join in the event at any of the different host locations. The focus areas for the outreach are:
Arts

Prayer
Social Justice
Youth and Children
General missions and Service
Sports
You can find out more about the event, and how or your team can get involved, at www.ywamkickoff2014.com.
Rugby Plus Program in Fiji
In addition to YWAM Hockey that we talked about on the last YWAM Podcast, another exciting way that YWAM has been using sports as a tool for discipleship and evangelism is the Rugby Plus Program in Fiji.
The program consists of a workshop that includes guest speakers, coaches, players and pastors. The participants receive spiritual, physical and mental training during the workshop. They addressed a few specific issues such as anger management, sportsmanship, player productivity and team bonding.
You can read more about the program, and the influence of Christians in Fijian Rugby at www.fijitimes.com.
YWAM's University of the Nations Workshop 2013
The University of the Nations will be hosting their 2013 workshop in San Antonio Del Mar, Mexico from September 3 – September 8, 2013. Here is a letter from the International UofN President, Markus Steffen:
This gathering is for everyone involved in the ministry of equipping, training, educating and discipling towards the fulfillment of the Great Commission. The times we are living in are filled with amazing opportunities. It is truly a season to EXPAND Intimacy and Impact to see much more of God's purposes unfold in our personal lives, families, communities and nations. The Workshop is about meeting with God in prayer, worship, celebration and His Word. It is also about strengthening our relationships and networking to see Intimacy and Impact EXPAND.

The content of the program and daily schedule has a lot of variety and optional sessions to serve the needs of the participants in the best possible way. It also includes a "YWAM World Cup" for all soccer players and fans. We will meet at the beautifully located and easily accessible YWAM San Antonio Del Mar Campus. I look forward to seeing you soon.

Markus Steffen
International UofN President
The University of the Nation is the training branch or arm of Youth With a Misison and the workshop is geared towards anyone in YWAM that is involved in discipleship, equipping, training and education.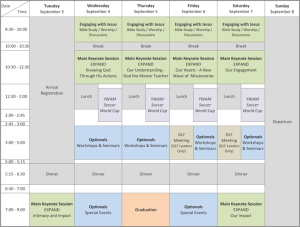 The workshop will include daily bible studies, worship and discussions as well as keynotes each day from the leaders of the mission. There will also be workshops and seminars based around the different centres and colleges in the UofN.
Another fun event that will no doubt be a highlight for many of the attendees there will also be a YWAM Footback World Cup (soccer) tournament running through the week.
The full schedule can be viewed in the show notes and you can find out more about the workshop of the UofN website, www.uofn.edu.
YWAM Canada Go Conference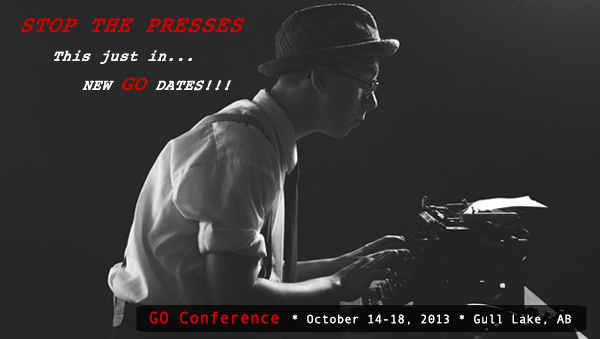 YWAM Canada will be hosting a Go Conference October 14 – 18 at the Gull Lake Centre near Lacombe, Alberta. The Go Conference is an:
… action-packed week of learning about the nations of the world and responding to God in worship and intercession for the least reached. The Lord of the Harvest is inviting us to join Him in what He's doing. Special speakers, intercession for the unreached, interactive displays and a variety of workshops are only a few of the activities on this year's schedule.
The conference is geared towards YWAM staff and students, as well as friends of YWAM and people with a heart for missions. There is a special track that will be running during the conference geared specifically towards DTS students called "Missions 101". There will also be a cultural fair, topical workshops, and a kids program for kids between the age of 4 – 10.
Find out more about the YWAM Canada Co Conference on the YWAM Nexia home page, www.ywamnexia.org.
Mission Possible 2013
One of our main goal with Mission Possible is to equip and send international missionaries from all over the world to the remaining unreached people groups of the world and see the Kingdom of God come in love and in power, through both preaching and practically living out the gospel of Christ among every tribe, nation and tongue.

Each culture reflects the glory of God in it's own unique fashion. We don't desire to see cultures changed or westernized, but rather want to bring Kingdom culture to every people group and allow the Holy Spirit to transform lives, bringing hope and freedom to those who have been living in bondage for centuries. Love looks like something in each culture.

We want to release a new breed of missionaries to discover what the love of Christ looks like in every nation and be the hands of feet of Jesus to them.

Come and join us in the Netherlands on October 22 – 27 2013.
Find out more about the Mission Possible conference at www.trin.nl.
Uniskript Lingua Surge
We introduced you to Uniskript on episode 59 of the YWAM Podcast. Basically it is a script based writing system that is easy to learn and read, even for cultures who have never had a written expression of their own language.
Running from July 5 – September 18, UofN Kona is running the Uniskript Lingua Surge school. The school will be run like an academic conference, with professionals from different backgrounds including:
Linguistics

Literacy
Anthropology
Missiology
Second Language Acquisition
Letter Design
Uniskript History and Methodology
Ethno-Education: Principles and Methods
Alphabet Implementation
more …
The 12-week course will be followed up by a 36-week field assignment among small people groups whose language is yet to be written, and that don't have the Bible. The goal of the field assignment will be to develop new alphabets and literacy material for each target language / people group in order to help facilitate Bible translation.
Find out more on the University of the Nations Kona website, www.uofnkona.edu.
School of Photography – YWAM Kona
In January The UofN Kona campus is also offering the school of photography. It's a 12-week course that will help you to learn how to use your camera to help advance the Kingdom of God.
Find out more about the course on he UofN Kona web-site, www.uofnkona.edu.
Foundations of Community Development School
YWAM Harpenden will be running a Foundations of Community Development School from September 23. 2013 – March 13, 2014. The course has three months of lectures, followed by a three month field assignment.
The Foundations in Community Development School provides an overview of the issues involved in helping communities (rural or urban) grow and be transformed towards God's intentions. It focuses on a Biblical understanding of the root causes of poverty and underdevelopment and the strategies needed to enable people to find their own solutions. Christians have a vital role to play in facilitating sustainable development that is about changing communities by restoring the broken relationships between people, between 'man' and God, and between 'man' and creation, and in demonstrating an integral approach that addresses all areas of life; physical, social, and spiritual. The key is people – transformed hearts, minds, and lives; transformed communities, societies, and nations. The glory of God declared and demonstrated.
There are many topics covered during the school, including:
Biblical Worldview and Community Development

Relief Development Continuum
Phases of Development
Community Assessments
Project Cycle Management
The Local Church and Development
Primary Health Care / Key Health Issues / Water and Sanitation
Agriculture and Food Security / Farming God's Way
Environmental Stewardship
Team Dynamics
Find out more about the school, and have a look at the many resources that are available, over that the YWAM Harpenden web-site, ywamharpenden.org.
Review us!