Podcast: Play in new window | Download | Embed
Subscribe: Apple Podcasts | Android | Email | RSS | More
On this week's episode of the YWAM Podcast we will find out about the new Global YWAM web-site, we will follow up on the disaster relief work that YWAM Dehradoon is doing in response to the floods in India, we have a few reports from Marine Reach in New Zealand and Albania, we will hear some testimonies from previous UofN Workshops, find out about a new YWAM community literacy centre in Guyana, and hear about some new upcoming training opportunities…
Stories:
New YWAM.org WebSite
We're excited to announce that we've just launched a new version of YWAM.org. Please have a look and tell us what you think.

This new YWAM.org offers:

A simple design focused on helping visitors take action.
A smartphone and tablet-friendly layout. The site will shrink to fit almost any device.
A map that shows all public YWAM locations.
New content areas such as Know God, Make God Known, For Parents, and For YWAMers.
A lot more personal touch. We now provide a thank-you email to everyone who inquires and our Help Desk team seeks to answers questions within 48 hours.

We're grateful to God for the team that came together to produce the new YWAM.org. The site was created by YWAMers and former YWAMers who built on the work of the team who made the previous YWAM.org. A group of 26 people worked on the site, ranging in age from 23 to 83, and located in nine YWAM locations in six countries.
Check out the new web-site at www.ywam.org.
Update from YWAM Dehradoon Disaster Relief Team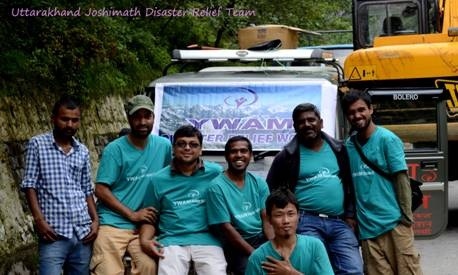 The first teams from YWAM Dehradoon that responded to the floods in Lamabgarh has returned back to their YWAM centre. Enough relief material is reaching the area and what is needed now is the rebuilding of roads, bridges, schools, and everything else that the floods washed away. As with most disasters the poor have been affected the most …
There are many poor people in the villages, some of their husbands and kids are tour guides: In one village alone 9 children and 3 men died in the floods. The men all had families with young children. Every village has their own story, and now there are many young widows in the area around Kedarnath.

The tourism industry is badly affected and that was the livelihood for many. Kedar nath has been closed for the season and many are left without income. Relief will come for 2-3 months but when their money finishes there will be no job for them. No income means children will lose out on education as the parents can't afford to send them to school. This will impact them for life!
While the teams are returning from the Lamabgarh region other teams are heading to the Uttarkashi area that was affected by the same storms. The storms caused damaged and flooding in that region and the teams will be conducting a survey in the area to see how they can best help.
To find out the latest news from YWAM Dehradoon check out their web-site, www.ywam-dehradun.org.
Global Media Network Report from the Call2All Global Congress
On May 12 – 24 over 2000 leaders and delegates from around the world gathered for the Call2All Global Congress in Chaing Mai, Thailand. Of those that gathered over 200 participants joined the Global Media Network (GMN) that was happening at the congress…
You can read the full report about the Global Media Network on the Create International web-site.
YWAM Marine Reach Pacific Hope Arriving "Home"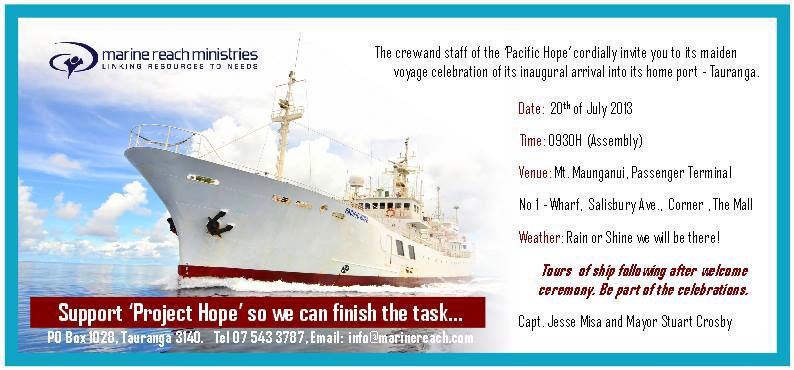 On Saturday the 20th of July the Marine Reach Pacific Hope arrived at it's home port of Tauranga in New Zealand.
To check out the latest news about the ship visit the Marine Reach New Zealand Facebook Page.
Update from YWAM Marine Reach Europe Albania Outreach
Recently we told you about the YWAM Marine Reach Europe medical outreach to Albania. They recently released a video about the outreach, which you can view here …
Find out more about Marine Reach Medical Europe on their Facebook Page.
YWAM Community Literacy Centre opens in Guyana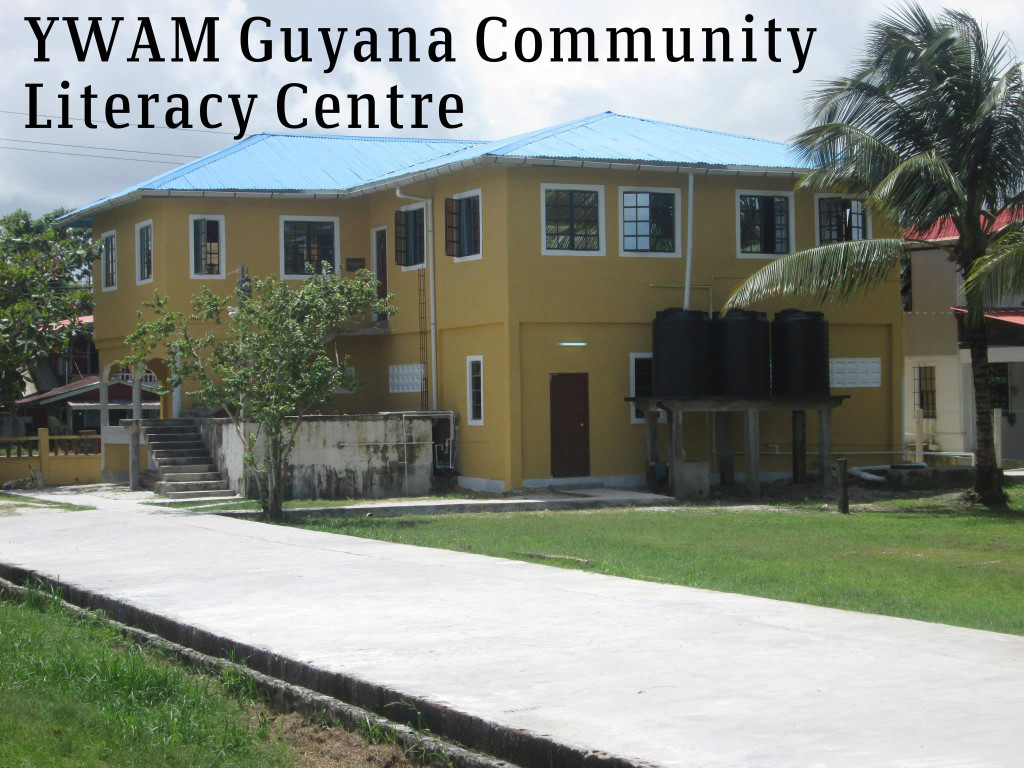 July 9 the dedication/opening of the community literacy centre and fun day for the kids in our community this was a very special and emotional day honouring those who made it possible for us to have a literacy for the community…
See more photos of the new community literacy centre at YWAM Guyana on their Facebook page.
This Month on YWAM Organic
This month there are three new featured videos over on YWAM Organic. These videos include:
Betting Together, a video by YWAM in Newcastle, Australia about some of the benefits of living in community in YWAM
Street Angels, a video from YWAM in York, England about the ministry that they are involved with to minister to people late at night in the city
A Wind in the House of Islam which is a new book being written about the recent move of Muslims to Christianity over the last 20-years.
Check out these videos and more at www.ywamorganic.com.
Testimonies from Previous UofN Workshops
We told you about the upcoming UofN Workshop in September on the last YWAM Podcast episode. In the upcoming episodes of the YWAM Podcast we will be bringing you some testimonies of people who have attended past workshops.
This week we have two testimonies for you. The first testimony is from Jonathan Hamilton and the second testimony is from Jinah Licari…
YWAM Football World Cup – UofN Workshop 2013
You can find out more about the workshop and how you can get involved at www.uofnworkshop.com.
YWAM Hope Land Sustainable Agricultural School (SAS)
The YWAM Centre in Jinja, Uganda will be running a Sustainable Agricultural School starting in September 2013. They will be training farmers in how to make the most of their land and transform their circumstances through farming.
As a centre YWAM Hope Land is running in a self-sufficient way by using much of their 75-acre property as farmland. They are feeding the centre from their own resources and are using it to model and begin training others interested in agriculture as a solution for income and nutrition.
You can find out more about the course on the YWAM Hope Land web-site.
South Bay YWAM Intimacy with God Seminar
South Bay YWAM will be presenting a seminar on Intimacy with God on August 3rd, 2013 in San Jose, California. It's an all day event with times of praise and worship, prayer, and engaging teaching.
If you are in the area you will be able to hear teaching from Tim Svoboda, who we heard give a testimony from Galatians on the last episode of the podcast. There will also be teaching from Angela Haythorpe about the "Impact of God's Love in Our Lives" and Ryan Gray about the need for "Showing God's Love in our Communities".
You can find out more about the Intimacy with God seminar on the Eventbrite page.
Becoming Baltic Salt – YWAM Latvia
YWAM Northern Europe is putting on a unique event in Riga, Latvia on October 4-6 called Baltic Salt. The idea behind Baltic Salt is to create a movement in the Baltics and beyond to re-discover God's principles in every area of life and to learn how to apply these principles to bring about community transformation.
To start off this movement they are inviting students and young professionals to gather in Riga for a weekend of learning, getting inspired, and connecting with others…
Find out more on the YWAM Northern Europe web-site, www.ywamne.com.
School of Apostolic Pioneering – YWAM Mazatlan
YWAM Mazatlan will be running a School of Apostolic Pioneering starting in March of 2014. The goal of the three month school is to equip participants with the skills, knowledge, and character that will assist them in their apostolic calling as they lead, pioneer, or multiply new YWAM bases and ministries around the world.
The course will cover many different topics including:
Cross Cultural Communication
Business as Mission
Principles of Pioneering
Church Planting Movements
Living by Faith
more …
The course is targeted at currently YWAM leaders and staff who have an interest in pioneering new initiatives within their ministry, or who desire to start new ministry locations.
You can find out more about the course at www.ywammazatlan.com/soap/.
YWAM Wollongong DTS Testimony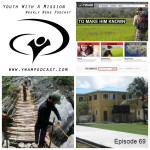 Review us and Subscribe: