Podcast: Play in new window | Download | Embed
Subscribe: iTunes | Android | Email | RSS | More
In this episode we will hear a message from Loren Cunningham, find out about three new vessels that have recently been added to the YWAM Ships fleet, check out a new Bible App that YWAM has been partnering with in the development, look at some free resources for YWAM staff and students, and more …
Thank you
– Mellisa Wood Myatt
– Rex Naranen with YWAM in PNG
– YWAM Frontier Missions Europe
– YWAM England
– YWAM England Alumni
Stories:
Message from Loren Cunningham
Loren Cunningham was also interviewed on the Voice of the Martyrs'  Radio Program last month. It's a great interview, with some great stories, and I would highly recommend checking it out at the VOM Radio web-site, linked to in the show notes for this show at ywampodcast.com/97.
Sourceview Bible
YWAM has been involved with the development of a new Bible app, called the SourceView Bible App …
You can download the app for free for your Apple iOS device, or your Android device. Visit sourceviewbible.com to find out more, and download the app.
New Ship Donated to YWAM Ships Kona
With all these stories about YWAM Ships it could almost feel like the YWAM Ships News Show, but with all the exciting developments lately, I would be remiss if I didn't mention them all…
YWAM Ships Kona has been blessed with the donation of a scientific research vessel by P&O Cruise Lines. The vessel has 6 times the tonnage of their current vessel, the Pacific Link, and will be arriving at the YWAM Townsville port on March 24th.
The vessel is in excellent condition, but to convert the vessel to serve the medical teams and needs in Papua New Guinea they are needing to raise $300,000 USD. Already they have seen $150,000 donated towards the goal, but they are needing to see the remainder come in soon.
Check out their web-site at www.ywamships.net, or follow the link in the show notes at ywampodcast.com/97, to find out more about the new vessel, and how you can get involved.
YWAM Ships Mazatlan New Ship, the M/V Amazing Grace
While YWAM Kona is in the process of receiving their new ship, the M/V Amazing Grace is now a part of YWAM Ships Mazatlan.
The vision of YWAM Ships Mazatlan is to engage the isolated communities on the islands and coasts of Mexico with the Gospel. They will be doing this by providing healthcare, distributing Bibles, building homes, and more.
Check out the video in the show notes at ywampodcast.com/97, and follow the link there to find out more about the ship.
YWAM Ships Australia New Vesel the s/y Ruach
YWAM Newcastle in Australia has also received a new sailing vessel this year …
The Rauch is already excitedly expected in Papua New Guinea later this year. While there it will delivering health services and supplies to some of PNG's remote areas that lack basic health assistance.
YWAM Newcastle Outreach Stories from Nepal
Speaking of YWAM Newcastle, here is an exciting story from one of their Discipleship Training School (DTS) teams that was recently in Nepal.
YWAM Kosova Neighbourhood Work
In an effort to engage with their community in Kosovo YWAM has been working to clean up different neighbourhoods, starting with their own. Their desire is to serve the community by creating beautiful spaces where people can sit and enjoy the beauty. They are finding it to be a great opportunity for YWAMers to be able to connect with people and share about God's love for them.
The team was even interviewed on a National Television station in Kosovo, where they were able to share about why they were doing the neighbourhood cleanup.
Check out the YWAM Kosova Facebook page to read more, and also consider how you may be able to do something similar in your community to connect and serve the people around you.
YWAM Townsville 25th Anniversary Celebration
Happening July 7 – 10, find out more at ywamtownsville.org/25. There are many people coming already, including Loren and Darlene Cunningham, John Dawson, Mark Parker, and a real Aussie legend, and my former flat mate, Watto!
Speaking of Watto, if you go, ask him what happened to his finger! There have been many stories, rumours, and myths about how it came off, and why it sits in a jar in his flat. If he tells you how it happened, let us know …
YWAM Ratchaburi Thailand – Karen Church Opening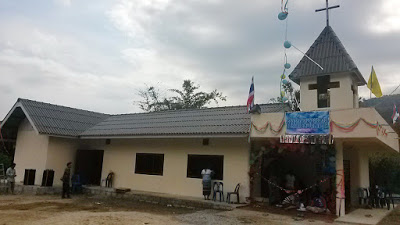 Since YWAM Ratchaburi started working with the people in Makaam Waan village a few years ago the people have had a vision to build a new church. It seemed like a distant dream to the Karen people in that village.
The people of Makaam Waan village were able to see that dream come true on the 31st of December 2015.
This experience has helped the people to grow their faith as they have been challenged to believe beyond their circumstances in a God that is great enough to fulfill even those things tha may seem impossible.
Check out full story through the link to their blog in the show notes at ywampodcast.com/97.
YWAM Europe United
Once every 5 years Youth With A Mission Europe gets together as YWAM Family to celebrate life and ministry together serving God in their amazing region.
The next gathering is April 8 – 12, and will be held in Durres, Albania, meeting in a large marquee on the actual beech! Apparently there will be comfortable rooms, a good amount of sun, and a requirement for every YWAM event, great coffee!
Visit ywamwe.org to find out more, or follow the link in the show notes at ywampodcast.com/97.
University of the Nations Books
There is a great new resource for speakers, staff, and students in YWAM. It's the UofN Books site at www.uofnbooks.com.
On that site you can find University of the Nations course books, speaker books, SBS Bible study books, a number of free books, and more…
The three free books that are available are the:
In addition to the free books that are available there are also many other journals, books, and more
YWAM Organic This Month
I would like to encourage you, if you want to see some more stories about Youth With a Mission, to visit YWAM Organic, at ywamorganic.org. This month they have a featured story about YWAM Worcester in South Africa, they take a humourous look at some of the ways that we talk to God, a teaching that asks us the question of "why" we are doing what we are with our lives, and a look at Jaipur, India, where only 0.25% of people believe in Jesus…
How to Prepare for your Short-Term Mission Trip
The Traveling Team, over at thetravelingteam.org, have some great tips to help you prepare for your short-term mission trip. There tips include:
Preparing for advance with Prayer
Be a servant to the ministry and people you are there to serve
Be flexible with your plans
Build relationships with the locals, you are there to show the love and mercy of Christ to them.
Check out the full article by The Traveling Team by following the link in the show notes at ywampodcast.com/97.
More YWAM Podcasts
Last month we have launched a companion podcast to The Invitation – YWAM's Global Prayer initiative. Head over to YWAMPodcast.net to subscribe. You will receive the audio version on the monthly prayer letter each month, to prepare you for the second Thursday of each month when the YWAM Family joins together around the world to pray for a specific topic.
The YWAM Teaching Podcast has also had a number of teachings released since our last YWAM News Show, including teaching from Loren Cunningham, Joy Dawson, Corrie Ten Boom, and Brother Andrew. Again, if you over to YWAMPodcast.net, you can hear those teachings, and also subscribe to the YWAM Teaching Podcast.
Feedback
Subscribe
More
If you liked the program, tell a friend. If you didn't like it, tell a friend anyway …
Review us and Subscribe: