Podcast: Play in new window | Download | Embed
Subscribe: iTunes | Android | Email | RSS | More
This week we will look at the upcoming University of the Nations workshop in Mexico, talk about YWAM's response to the floods in India, hear about a DTS outreach experience in the Dominican Republic, see what YWAM is doing for the World Expo to be held in Milan, Italy in 2015, and more …
Stories:
U of N Workshop 2013 in Mexico

The next University of the Nations Workshop will be in San Antonio Del Mar, Mexico, from the 3 – 8 of September. The U of N Workshop happens every two-years and is a gathering of everyone in YWAM who is involved in the ministry of equipping, training, educating and discipling people towards the fulfillment of the Great Commission,
Galatians 6:9 Devotional
YWAM SanFrancisco – Tim Svoboda, YWAM San Francisco Bay Area Coordinator
Let us not become weary in doing good, for at the proper time we will reap a harvest if we do not give up. Therefore, as we have opportunity, let us do good to all people, especially to those who belong to the family of believers. (Gal. 6:9-10)
From www.ywamsanfrancisco.org/
Solar Powered Dental Chair in PNG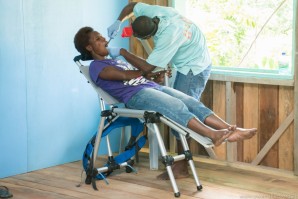 In a country with only 17 dentists, and a population of 6.3 million people, Papua New Guinea is in desperate need for dental services. One of the ways that YWAM Ships Australia has been able to help with this is by the donation of a solar powered dental chair.
The solar powered dental chair folds down into a 15kg backpack and includes a portable dental chair, a hand drill, pneumatic foot-operated speed control pedal, instrument tray, and solar panel.
In the first 14-days of being used the chair had already been used to assist with 426 patients. The local community health and dental worker is able to now do complicated extractions and fillings in the villages of the PNG Gulf Province.
http://www.ywamships.org.au/2013/06/solar-powered-dental-chair/
YWAM Turner Valley Floods and SBS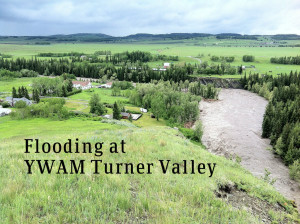 Last month Southern Alberta has hit by flash flooding that turned what is usually a tranquil river near the YWAM centre in Turner Valley into a raging river. The Sheep River overflowed it's banks and took out a forest on the property as well as a building designated for prayer.
The flooding also caused a puncture to a gas pipe near the YWAM Centre. This lead to an immediate evacuation of all the surrounding properties, including the YWAM Centre.
The staff and students are now back at the centre are working on cleaning the property and hopefully eventually rebuilding their "prayer shack". (more)
Around the same time as the flooding YWAM Turner Valley was also busy running a School of Biblical Studies (SBS).
The goal of the School of Biblical Studies is to equip students to study and understand the content of the Bible. The content is covered in the student's independent study and class lectures. The student uses the inductive method to study the whole Bible. This approach allows the Scripture to speak for itself and studies Scripture in context.
http://ywamturnervalley.org/sbs/
YWAM Flood Relief in Himalayan India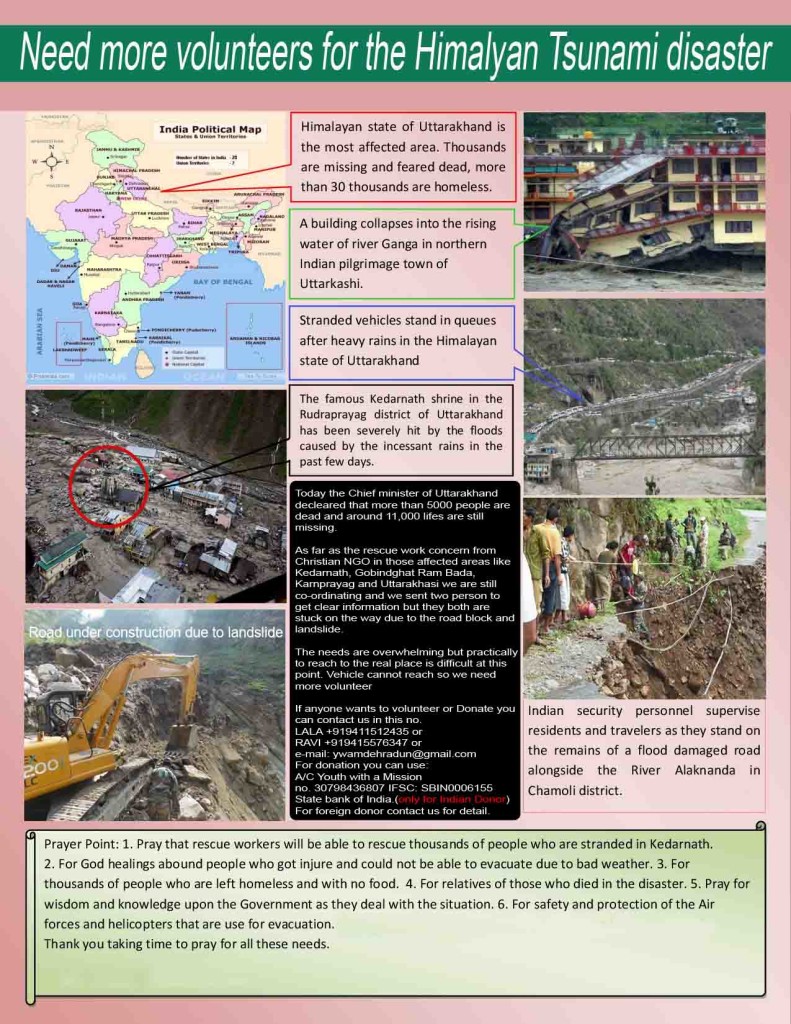 While Southern Alberta digs itself out of their floods severe flooding has inundated the India Himalayan state of Uttarakhand. There are over 5000 people are dead, 11,000 people missing, and more than 30-thousand people are homeless.
YWAM Dehrandun is engaged in providing flood relief for the some of the affected people. They are planning to help about 500 families by providing them with food and trying to fix their water supplies.
The teams are also providing about 200 of the affected families with solar powered lights, which can also be used to power small communication devices.
Many of the roads and building have been wiped out or are extremely unstable. YWAM Dehrandun is asking for our prayers and support during this time for the workers and the people who have been effected by these terrible floods.
You can find out more about these floods and the relief work that YWAM is providing on their web-site, ywam-dehradun.org.
YWAM Go Conference 2013
The next YWAM Go Conference will be held from 27 October – 1 November in Siloam Springs, Arkansas, USA.
The YWAM Go Conference gathers like-minded people to discover God's heart for the least reached and most vulnerable. It's an action-packed week of teaching, intercession, worship and team building that will empower participants to bring truth, compassion, and freedom to a world in desperate need.

The GO Conference weaves together three modern day mission threads – sociology, geography, and demography. Or in plain English, it weaves the justice movement, 4K mapping, and unreached people groups to create a holistic picture of the world and its needs.
There will be three featured speakers at the Go Conference including:
David Hamilton – World Missions and 4k Mapping

Rob Morris – Justice and Compassion
Brian Hogan – Unreached People Groups
The conference is open to individual attendees and it is also offered as a missions week for Discipleship Training School teams that wish to attend.
YWAM DTS Dominican Republic Outreach Story
Find out more about the Discipleship Training School offered by YWAM Orlando at ywamorlando.com.
YWAM Milan World Expo 2015 Outreach
The next World Expo will take place in Milan, Italy in 2015. It lasts for 6-months from 1 May – 31 October and the theme is "Feeding the Planet, Energy for Life.".
YWAM Milan is running a School of Evangelism in 2015 with the goal of the school to outreach to the World Expo…
YWAM Milan has also set-up a Facebook group for YWAMers who are interested in the expo and want to learn how to get involved, www.facebook.com/YWAM.MilanExpo2015.
Urban Sports Ministry in YWAM Richmond
The Urban Ministries program at YWAM Virginia serves the urban needy through holistic community development and children's youth ministries. Our local ministries nclude:

Character Club
Leadership and Character Training for Youth
Mentoring
After School Programs
Community Service Projects
Food Pantry
Sports and Recreation
Hosting Outreach Teams in the Community

Sports Connect is a sports related ministry that develops connections between urban at risk youth and young Christian athletes. Sports Connect endeavours to disciple youth one on one, on a regular basis in their environment.
30-Days of Prayer for the Muslim World
A reminder that the 30-Days of Prayer for the Muslim World event is running from 9 July – 7 August. You can download resources, order the paryer book, and more on their web-site, www.30daysprayer.com.
YWAM Next Wave and The King's Lodge – Voyage Through the Bible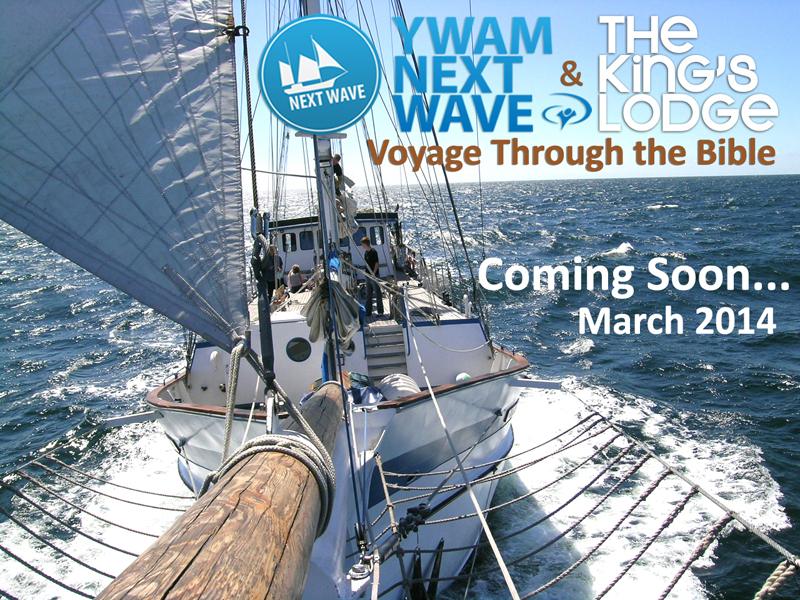 YWAM's Sail Training vessel s/y Next Wave and The King's Lodge Biblical Studies Department are teaming up to take a "Voyage Though the Bible"! Starting early March 2014, participants on Next Wave will sail through the Mediterranean Sea, studying the Bible and stopping along the way to experience Biblical locations.
http://thekingslodge.com/advanced-training/voyage-through-the-bible/
Writers Workshop in Melbourne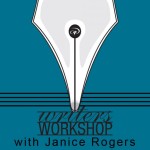 Janice Rogers will be running a writers workshop in Melbourne, Australia from the 5th – 9th of August.
Topics:
How to write a compelling story
The writer as God's servant
Identifying and addressing the readers' felt needs
Tightening your focus
How to build your stories with dramatic scenes
ywammelbourne.com/writing-workshop/
YWAM Northwoods Summer Infusion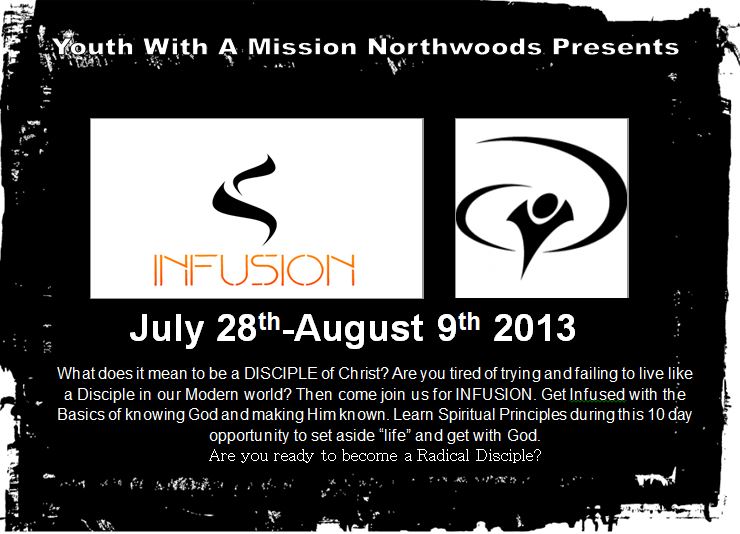 YWAM Northwoods in Weyerhaeuser, in North West Wisconsin is running a 10-day program called Infusion. The idea behind Infusion is to answer the question, "What does it mean to be a disciple of Christ?".
The course looks at many different topics including:
What is a Disciple?

Personal Spiritual Life ("quiet time")
Learning to Pray, How to Hear God's Voice
Identity and Destiny in Christ
The Heart of Servanthood
In addition to the teaching times there will be opportunities to put the teaching into action with practical activities built into the schedule.
ywamnorthwoods.org/schools/infusion/
YWAM Tyler, Texas SST
YWAM Tyler, Texas is once again running it's summer courses this year. There is still time to join the SST planned for July 14 – July 28.
You can find out more about the SST on the webiste, sst.org.
YWAM Berlin Summer of Service
YWAM Berlin will be running an 11 day "Summer of Service" program from 1 – 11 August. They will be running morning workshops on topics like worship, evangelism, and living a life with Jesus.
The program will also include learning dramas, plays, and music for preforming in public. Participants will also learn how to practically share about Jesus in any situation, including one on one, small group, and open air opportunities.
Free Album from Taryn Leia Prescott
For the Love of You.
This album is being released for free in support of YWAM Cambridge's vision for a discipleship house.
Review us and Subscribe: