Podcast: Play in new window | Download | Embed
Subscribe: Apple Podcasts | Android | Email | RSS | More
In this week's edition of the Youth With A Mission (YWAM) Podcast we talk about why there is still such a need for a ship based ministry, find out why a YWAM DTS as a good option for your Gap Year between high school and work or further education, hear about some of the work that YWAM's many volunteers are doing throughout Africa and find out many different ways that you can get involved in Youth With A Mission around the world with both training and outreach opportunities…
Stories:
Gap Year in YWAM
Marine Reach Vessel M/V Pacific Hope is continuing to be refurbished in the Philippines.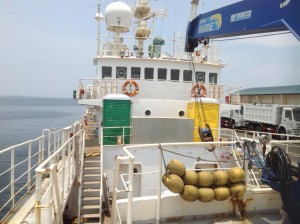 Follow them on Facebook for the latest news.
YWAM Australia Ship Setting Sail to PNG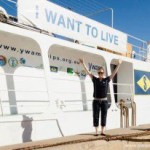 The YWAM Australia Ship the the M/V Pacific Link will be setting sail for Papua New Guinea on May 1 for another major outreach to the nation.
There are still opportunites to join them on outreach to the PNG Gulf Province, Port Moresby, and the Western Province of Papua New Guinea. In addition to general volunteers they are looking for people with these specific skills:
Primary Health Care

Dental
Optometry
Ophthalmology
Ship and Marine Crew
You can find out more about how you can get involved on their web-site, www.ywamships.org.au.
The Effects of Extreme Isolation
In episode 57 of the YWAM Podcast we talked about two of YWAM's sailing vessels focussing on the area of Micronesia for their outreach efforts. While it may be hard for us to understand how isolated these places are, and how hard it is on the people on those islands, I kind of started to grasp it while reading one of the more recent updates from the YWAM Ships OC web-site:
One thing that hit me like a brick after talking to nurses here today, in addition to all the others experiencing problems with transportation, is the direct effect on access to medical care.  Not having ships is the single largest limitation for people receiving available treatment.  Every conversation I had with dentists, nurses, medical assistants, the TB nurse, the public health nurse, all of them explained the reason they cannot treat people is that they cannot get to Christmas Island from Fanning and Washington even if they are sick.  The boat only goes a couple of times a year.  So, if someone is sick they have to survive somehow on their isolated island.  Even if they managed get to Christmas Island for treatment, they can¹t get home again for 3 or more months and the hospital has to pay them money for them to live on while the wait and wait for the next ship.
You can read the full update on their web-site, www.ywamships.net.
Thank You from YWAM Africa for all the Volunteers
A thank you from Kobus van Niekerk, a lead elder with Youth With A Mission in Africa.
YWAM Hockey Still In Need of Volunteers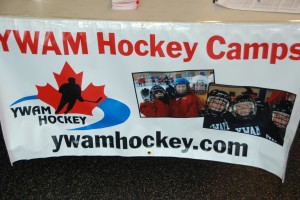 YWAM Hockey is still in need of a goalie and 2 – 3 more players for the Hockey Summer Of Service, as well as local volunteers to help with the camps in Calgary, Prince George and Kelowna.
The Hockey Summer of Service runs from July 10 – August 10 and involves serving in different areas of the hockey camps, including on ice and off ice activities.
Find out more on their web-site, www.ywamhockey.com.
Next Month on YWAM Organic
YWAM Texas SST

YWAM Norway Outreach to Ethiopia
30-Days of Prayer for the Muslim World
Check out all the videos over at www.ywamorganic.org.
The Friends House – YWAM Germany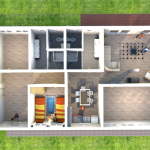 Last year, through a lot of relational and social media effort, Youth With A Mission Germany won a free prefab house for their ministry. Although the building itself is free, the fit out and erection of the house is not.
The YWAM centre has decided to fit out the building to accommodate 12 people and also found the ideal location on their property for the new building.
In order to simply erect the shell of the house they are needing to raise 30,000 euros and then to finish the fit out of the building they will need an additional 50,000 euros on top of that. Despite these expenses the YWAM Centre is still feeling extremely blessed that at the end of it they will have a 150 square metre house for around 80,000 EUR.
You can find out more about the house and how you can help at www.jmem-hainichen.de.
Emerge Business Summit
June 7 – 10th will see YWAM Strategic Frontiers hosting the Emerge Business Summit in Colorado Springs.
The purpose behind the Emerge Business Summit is:
We want to bring together men and women from around the world who all have a passion to reach the nations for Christ. Business plays a huge part in this effort and we want to hear from you and empower you to accomplish your dreams in making this happen. The theme of our Summit is: Discover. Create. Discuss.
It will be three days of looking at how we can bring about sustainable change through business.
Find out more on their web-site, www.ywamemerge.org.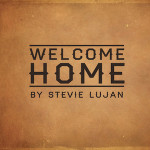 New Album by Stevie Lujan "Welcome Home"
Stevie Lujan, a long term student and staff member with YWAM Newcastle, released his debut album on April 23. The songs on the album are "birthed out of a YWAMers journey of hearing God and having his heart broke for the nations".
Download it for free as a gift at www.comeandlive.com.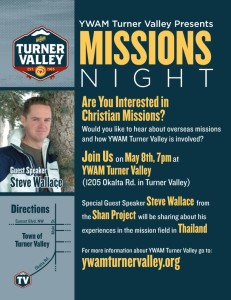 YWAM Turner Valley Missions Night
On May 8th at 7:00 pm YWAM Turner Valley, just South of Calgary, Alberta, Canada, will be holding a missions night. The night will be a time of worship, information, and fellowship.
The guest speaker for the night will be Steve Wallace, who will share about his work among the Shan of Southeast Asia.
Find out more on the YWAM Turner Valley Facebook Page.
Visual Arts for Missions (VAM) School
Visual Arts for Missions (VAM) is a training school that focuses on integration of visual art techniques with a cross cultural focus, to produce & multiply evangelistic resources for unreached peoples. It will be starting on May 15 and run for six-months, with the initial lecture phase taking place in Chaing Mai, Thailand.
Topics covered during the school:
Biblical Basis of Missions

Cross Cultural Communication

Media in Missions

Media Strategy

EthnoArts

Intro to Drawing

Advanced Drawing (Life Drawing)

Intro to Painting & Color Technique: (Color Theory, Color Pencils, Markers)

Painting Mediums (Acrylic, Gauche, Watercolor)

Advanced Painting & Mixed Media

Field Assignment
After the three-month lecture phase, students will be directly involved in the production of visual art tools that share the good news with an unreached people group. This will include onsite field research, consultations with local missionaries, and hours of guided production at our facility in Chiang Mai, Thailand. The field assignment lasts three months.
YWAM Orlando School of Ministry Development

YWAM Orlando will be running their next School of Ministry Development (SOMD) starting in September. The course is meant to prepare the student to be on staff with YWAM anywhere in the world, and also to help equip them to serve in a local chuch setting.
The school focuses on seeing people grow in personal character, practical skills, and motivation do whatever it takes for as long as it takes to serve God in full-time ministry.
Topics covered in the SOMD:
Effective Personal Ministry 

Personal Growth (mental, spiritual, social & physical)

Vision and Values of YWAM International and YWAM Orlando

Funding Your Ministry

Strengths and Gifts

Servant Leadership

Spiritual Authority

Understanding the Call of God
Check out www.ywamorlando.com for find out more about the School of Ministry Development.
French/English Language Learning Intensive
YWAM Lausanne will be hosting a four week language intensive course from August 26 – September 20 of this year. The intensive seminar will allow students to build their confidence and conversational fluency to help them share their faith more effectively in either English or French.
The course will include daily lectures and exercises from professional instructors, fields trips to local sites for practical application, interactive classroom participation, access to a language learning lab and a multi-cultural environment where students can practice their new skills.
You can find out more about this course at www.ywamlausanne.com.
YWAM Madison Selling Shirts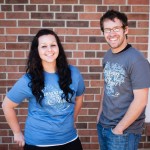 "Compassion Takes Action" shirts.
Throughout the world millions of children are orphaned through war, through AIDS, through extreme poverty. Every seven seconds a child dies from a preventable disease. Drug addiction runs rampant. Children are sold into prostitution or forced to become child soldiers. They're lost and they have no place to live. These children have no hope.
Your purchase helps us to reach at risk kids, women, and communities!
Check out the shirts and order them on the YWAM Madison Facebook Page.
Review us!