Podcast: Play in new window | Download | Embed
Subscribe: iTunes | Android | Email | RSS | More
This week we will catch up on the continued YWAM relief work in the Philippines, find out what work YWAM Dehrandun is continuing to do in India after the devastating floods in June, 2013 that left about 5700 people dead, get to hear from YWAM Los Angeles about the importance of community, hear about the flying car recently acquired by YWAM Ships Australia, check out some upcoming outreach and training opportunities, and more …
Stories:
Philippines Updates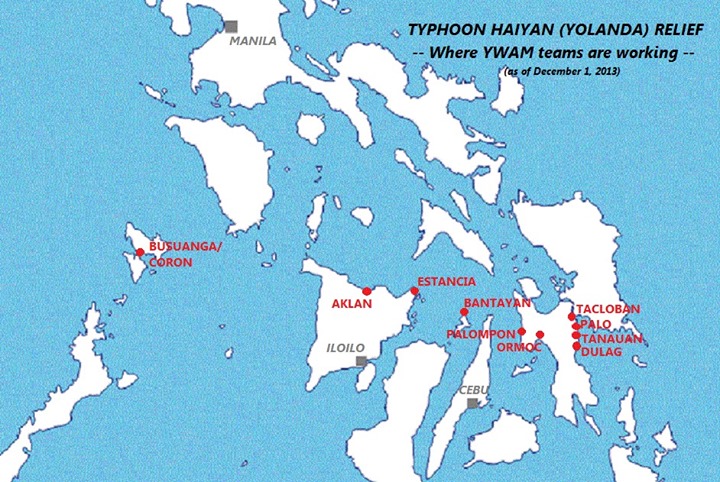 Currently there are 25 teams operating in the Philippines, with more teams planning to be there in the coming weeks and months.
More of our teams are beginning to help typhoon victims by distributing tools and helping rebuild homes and schools. However, since commerce and income sources were also devastated, people are still dependent on basic relief supplies for survival. This will continue for quite some time, until agriculture and commerce is re-established. Bodies are still being recovered, and there is still a large number of missing. There is less typhoon-related critical medical work, and more of the normal chronic cases. Ormoc still has some functional commerce, and will remain an important part of the "lifeline" in Leyte.
Some of the work that YWAM has been a part of is:
Distributing relief packages and helping rebuild homes
Water purification
Emergency medical field centre
Non-critical Medical work
Cellphone charging centres
Debris cleanup
On Dec 5, 253 solar-powered lights and 150 building tool kits were distributed, then the team prepared for a move into the new YWAM Tacloban house (rental) beside Alejandro Hotel.
YWAM Philippines Facebook Page
Steps of Justice Philippines Response Trip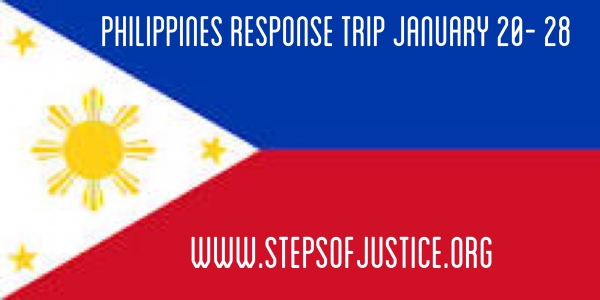 The reason that we are setting up and going on this trip is in response to the great need in the Philippines. We believe that when such a disaster occurs our responsibility is to respond in some way, this is our response. We would love you to join us January 20-28.
Team Xtreme Preaching in Filipino Prisons
Team Xtreme Tonga preaching the Gospel in the Prisons,in the Philippines
Setting the captives free.
www.facebook.com/teamxtremeintl
Prayer for the burial teams
YWAM staff has recovered or buried 54 bodies (not including those loaded and transported on truck). As of last week Rescue Net recovered 21 bodies (they have done more since then). YWAM Staff are also bringing in relief goods and tools to help rebuild along with some basic medical care. This is physically and mentally draining.
Read the latest update on the YWAM Global web-site.
YWAM Dehradun Relief Team work in India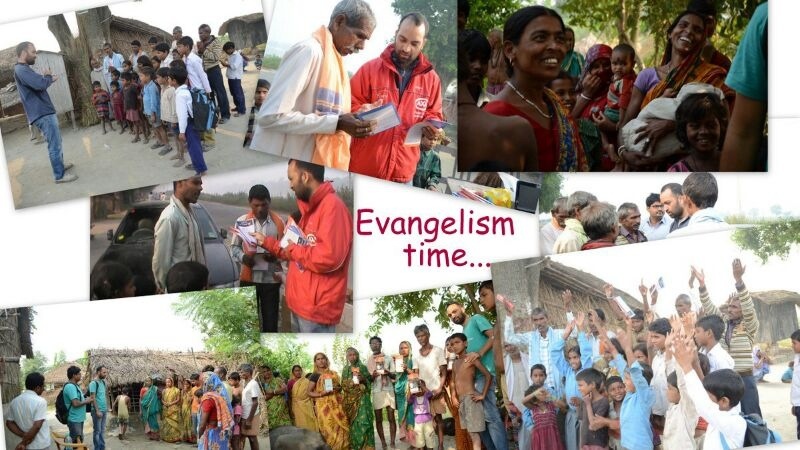 YWAM Dehradun continues to have teams helping in the flood ravaged areas in India. Many of the areas are still without electricity and YWAM has been providing them with solar power lights to help in the area.
YWAM has also continued to work in the villages to help provide clean water. To find clean water extremely deep wells need to be drilled and YWAM has been busy repairing some of the hand pumps that were damaged in the floods, and digging new wells for new hand pumps.
While they are busy helping in the villages there are also many opportunities to share the gospel and build relationships in the villiages.
YWAM Dehradun needs your prayers and support to continue to minister in these flood affected villages.
You can read more on their web-site, ywam-dehradun.org.
Living in YWAM Community
YWAM Los Angeles produced a great video about why we live in community in YWAM, and how important it is to our mission.
YWAM Ships Australia Acquired a Flying Car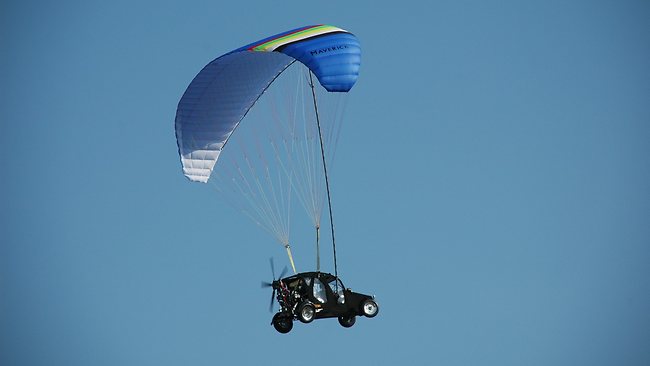 YWAM Townsville recently received the first flying car in Australia, the Maverick. YWAM currently has a team working on how the vehicle could best be used in Australia and Papua New Guinea.
Because of the nature of the vehicle is it virtually ideal for isolated and inaccessible villages in Papua New Guinea. The flying car could potentially be used to treat more patients in villages that the YWAM ministries currently are unable to reach.
You can read more about the flying car on the Townsville Bulletin web-site, www.townsvillebulletin.com.au. You can also hear an interview we did with Raymond Siebring about the Maverick on episode 74 of the YWAM Podcast at ywampodcast.com/74.
YWAM Ships Awarded Awards for Service in PNG
YWAM Ships Australia was recently awarded two prestigious international awards for their community, health, and training work in Papua New Guinea.
The first award was received in Dublin, where they received the Excellence in Ophthamology Award (XOVA). The second award was received in New York and was the Edward B Shils award for "Passion, Dedication and Leadership in Bringing Much Needed Health Care to the Underserved in Papua New Guinea.".
You can read more on the 1300smiles web-site, a partner with YWAM Ships Australia.
YWAM Global Excursion to Jordan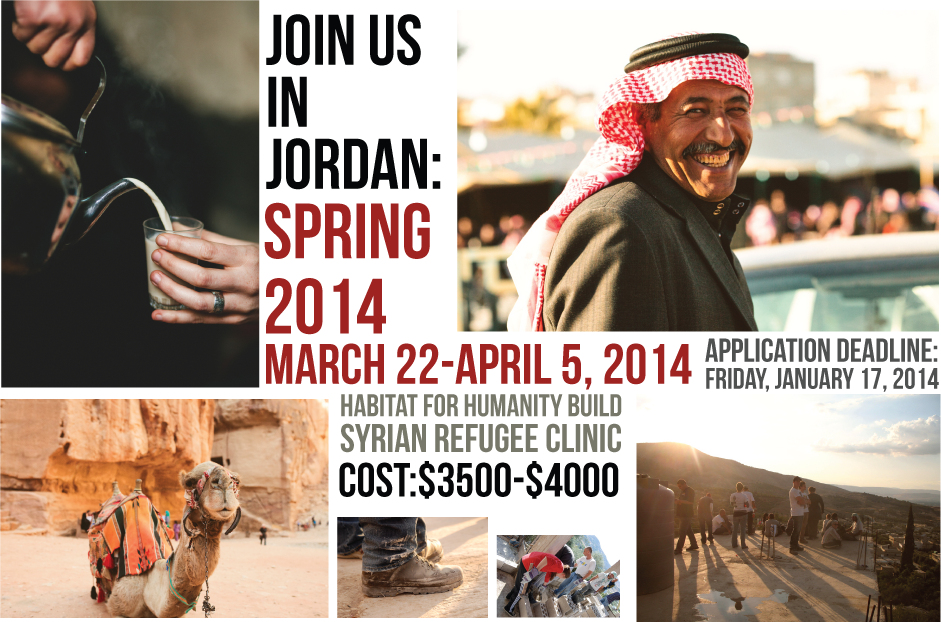 You are invited to join Youth With A Mission Strategic Frontiers this spring for 2 weeks in the Middle Eastern country of Jordan.

We will be showing Jesus's love to the people of the Middle East through working in a Syrian refugee clinic and participating in a Habitat for Humanity Build. We are asking retirees, medical professionals, members of the military, and anyone with a heart for the Middle East to please consider joining us.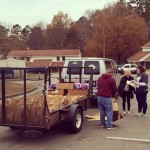 YWAM Charlotte Thanksgiving Outreach
A few weeks ago YWAM Charlotte ran their yearly Thanksgiving Outreach to their local community.
When YWAM Charlotte started their Thanksgiving outreach they began by serving Thanksgiving meals to the poor and needy out of a Wendy's in their city. After doing that for a few years they were asked by some of the neighbours that they were serving if they could do it themselves, and out of that the current outreach was began.
Under the new model of providing a frozen turkey, potatoes, sweet potatoes, stuffing, canned corn and green beans to families in need they provided 450 families with Thanksgiving dinner! They have seen this as a great blessing to their community, and as an easily replicated outreach.
You can read more about the outreach, and how you might be able to replicate it in your own ministry, on the YWAM Charlotte Facebook Page.
Latest News from YWAM Perth
YWAM Perth has just released their fortnightly news and it includes stories from their latest staff retreat, their new YWAM Perth web-site, an update from one of their Discipleship Training Schools in South Africa, and an invitation to Carols by Candlelight that they are hosting in Hyde Park, Perth …
This Month on YWAM Organic
YWAM Organic has released their latest series of stories this month:
HopeForce International – a team of volunteers from around the world who are being mobilized to help when disaster strikes
Create International – a behind the scenes look at the making of dramatized Bible stories in indigenous languages
A book talk about "A Wind in the House of Islam", a new book documenting an unprecedented movement of Muslims to Christianity
https://www.youtube.com/watch?v=obXFLm_q07I
You can watch the full stories on the YWAM Organic web-site, www.ywamorganic.com.
School of Reconciliation and Justice
YWAM Harpenden will be running a School of Reconciliation and Justice starting in January 2014.
The aim of the school is to train individuals and teams to work in different areas of society that need God's work of reconciliation and restoration. It is geared towards people who:
Want to be involved in peace building in an area of conflict
Want to be an advocate for the voiceless
Want to develop a restorative justice team in an inner-city
Want to work in the political arena
You can find out more about the school, including topics covered, on the YWAM Harpenden web-site, ywamharpenden.org.
Principles of Child and Youth Ministries (PCYM)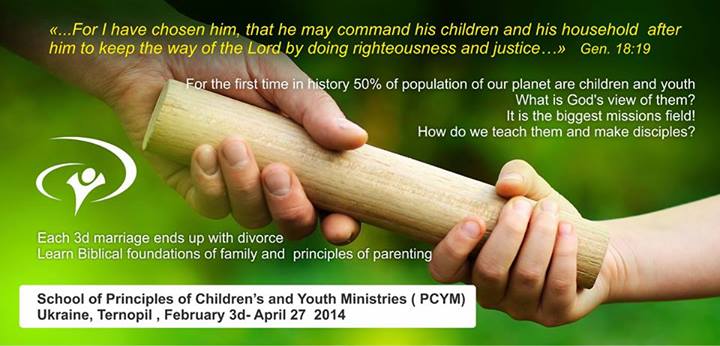 In Feb. 2014 YWAM Ternopil in the Ukraine will be running a school of Principles of Child and Youth Ministries (PCYM), which will be beneficial for those working and ministering to kids and youth. The school will from from 3 February – 25 April, 2014, and be followed by eight weeks of outreach.
During the course students will explore:
Human development and God's design for healthy parenting and family life
Strategy for working with pre-teens
Models of youth ministry
Motivating children and youth in praise, worship and intercession
Creativity in all aspects of youth ministry
Biblical worldview as it relates to children and youth
Discipling families
Understanding ourselves and others through personality types, love languages, etc.
You can find out more about the course on their web-site, www.ywamternopil.org.
School of Frontier Missions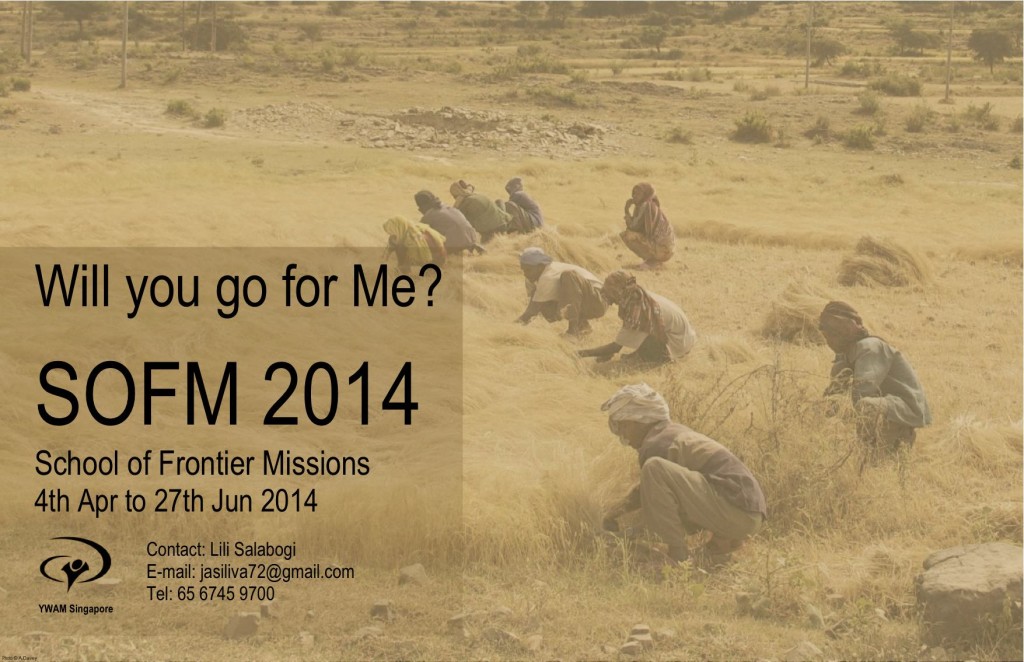 The School of Frontier Missions has a new location in Asia. This is a great school if you are headed to work in a cross cultural environment to start a new work. It is also good for those whose role it is to support missionaries in the field.
The school consists of a 3-month lecture phase in Singapore, followed by a 9-month field internship in Asia.
The objectives for the school are:
Impart language acquisition and cross-cultural communication skills
Train students to discover the worldview of their target people group
Build strong team ministry skills
Give keys to surviving in frontier locations
Assist students to find their area of calling in frontier missions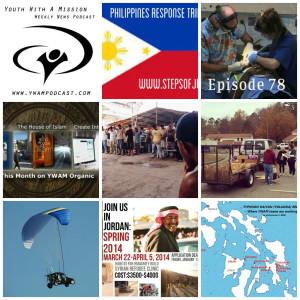 It will run from 4 April 2014 – 27 June 2015, and you can find out more at www.ywam.org.sg.
Review us and Subscribe: