Podcast: Play in new window | Download | Embed
Subscribe: Apple Podcasts | Android | Email | RSS | More
The week we hear about the M/V Pacific Hope geing on route to the Philippines, we look at some tree planting and conservation projects in East Africa, we talk about a few different ways that you could get involved with Youth With A Mission and we also talk about some of the things that you may learn by spending time in YWAM …
Stories:
M/V Pacific Hope on the way to the Philippines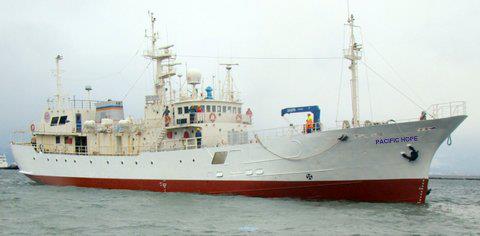 Some more information about the ship and the plans for it…
The M/V Pacific Hope was built in Japan as a Marine Training vessel and is ideally suited for humanitarian work across the South Pacific. Its shallow draft allows it to enter small lagoons and rivers in order to reach the most isolated and poorest communities. The vessel is fifty four (54) meters long and weights 450 GRT's. It can carry up to seventy (70) people and 155 cubic meters of humanitarian and emergency relief supplies. It has a cruising range of 20,000 miles. The vessel is equipped with two medical surgeries with volunteer medical teams concentrating on dental and cataract surgeries.

Crewed entirely by volunteers the M/V Pacific Hope will operate out of the Port of Tauranga and Port Vila in Vanuatu. The vessel is expected to concentrate its activities in Vanuatu, Fiji, Solomon Islands and Papua New Guinea in the coming years.

The vessel will arrive in the Philippines on the 2nd of April 2013 for a two-month stay before making its way back to New Zealand, via the Solomon Islands, Vanuatu, and Fiji. The vessel is expected to arrive in New Zealand around mid July 2013. The vessel will not only carry healthcare professionals but also "Mission Reach Teams" from local churches and youth groups in New Zealand who wish to send short term missions teams to a developing nation in the South Pacific. (source)
Donate Sunglasses to Marine Reach UK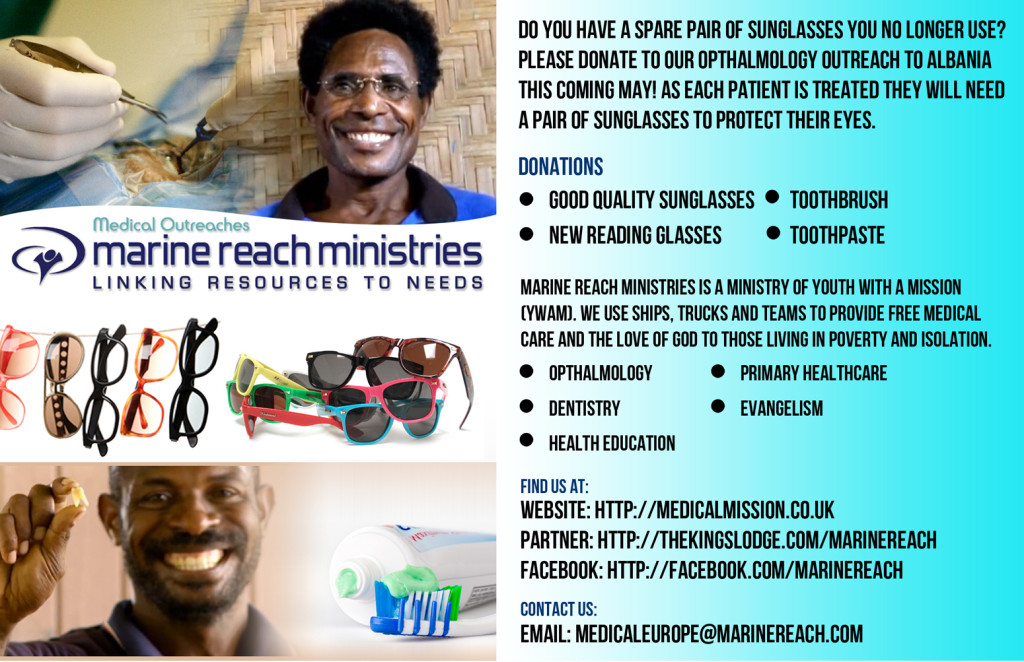 You can find out how to donate on the Marine Reach Ministries Medical site at www.medicalmission.co.uk.
YWAM Arusha Tree Planting and Environmental Conservation Projects
Youth With A Mission Arusha in Tanzania, Africa is working with local communities on the reforestation of the land. Deforestation has decimated many areas of the country and has contributed to food shortages and more…
Translation from local community leaders on the video:
I visited those trees. We got more than 4,000 seedlings in 2005 and now more than 2000 trees are doing well.

This means that more than half of all the trees we were given survived. When you plant three trees and two have survived, that is really encouraging.

There are some NGO's that have been helping us and they are very close to my location and even Maklat Division.

Youth With A Mission has been helping our community and they have given us seedlings and the community has received them.
Find out more about YWAM Arusha and their ministy at www.ywamarusha.com.
Frontier Filmmaking Seminar 2013
A 6-week YWAM seminar running from 24 August – 4 October 2013 in Chaing Mai, Thailand.
Will cover many different topics including:
Cross Cultural Communication
Video Production & Lighting
Field Photography & Cinematography
Story Development & Scriptwriting
Directing Evangelistic Drama & Films
Audio Production for Film
Digital Video Editing Techniques
Team Building for Film Crew
Field Media Practicum/Production Assistant Role
Find out more on the Create International Thailand Frontier Filmaking Seminar at www.createthailand.com.
YWAM Mission Builders International
YWAM Mission Builders International connects Christians to frontline ministry locations around the world which serve the poor, care for orphans, bring medical services to the sick, community development to feed the hungry, education and an introduction to Jesus Christ to those in need. Volunteers from all walks of life aged 18 and up are eligible to work alongside long-term missionaries serving in YWAM – Youth With A Mission around the world.
For more information, check out their website.
YWAM School of Biblical Studies (SBS)
The Youth With A Mission School of Biblical Studies started being run in YWAM in 1977. Since then the school has been run about 500 times with between 7000 and 10,000 students having been trained during the course. The school is currently being offered in around 40 different locations including Kings Lodge, which produced that video.
You can find out more about the School of Biblical Studies on the SBS International web-site at www.sbsinternational.org.
10 Things I Learnt in YWAM
Some of the things that one YWAM creative communications staff member with YWAM Newcastle learned during her time with Youth With A Mission:
Faith for my finances
How to build a support network
Generosity
How to use my creative gifts for missions and ministry … a passion for communication
How to design web-sites, make videos and do graphic design
How to be flexible
Obedience to God's Call
Youth are valued
Be with the people that Jesus was with
The Great Commission is not just a scripture in the Bible
You can read the full article by Susanna Smith on the YWAM Newcastle web-site at www.ywamnewcastle.com.
Get Involved
Review us!