Podcast: Play in new window | Download | Embed
Subscribe: Apple Podcasts | Android | Email | RSS | More
We talk about Global Outreach Day 2014, the Rise Campaign Mission Survey, get an update from YWAM in South Sudan, here about YWAM Perth's Homes of Hope and Birth Attendants School, find out how the Marine Reach Medical Europe outreach to Albania went, find out how YWAM Los Angeles is helping provide food in the slums of Kenya through their aquaponics program, check out the YWAM Kickoff 2014 outreach to the FIFA World Cup, and more …
Stories:
Invite Correspondents
On the last episode of the YWAM News Podcast I asked for people wanting to be guest hosts on this show to sign up at ywampodcast.com/guest. David from YWAM Panama took the time to sign up as a future guest host, so thank you David. David is bilingual and is already involved in a radio ministry in Panama, so I am really looking forward to talking with him on future episodes of the podcast.
We are looking for more hosts from around the world as well. We actually got some feedback from another David, this one from YWAM on the Sunshine Coast here in Australia …
I am based at YWAM Sunshine Coast here in Australia and I just wanted to say thanks for producing these podcasts. I love hearing what is happening within YWAM globally as it can be so easy to get focused on our own little part of the world.

I particularly like the access you give us to hear from some of the global leaders past and present. Loved what Lynn Green said on finances. I wish all YWAM leaders would take note!!!

I also like the idea of having co-presenters. I think that would work well. If you do that though I would suggest at least one woman as I expect that would help broaden your demographics.

Thanks again,

David
Thank you David for your feedback. It's always great to know that the podcasts we put together are helpful for you.
Like David said, we want to broaden our demographics and global input. If being a part of this podcast is something that you would like to do then please go to ywampodcast.com/guest and sign up …
Global Outreach Day
June 14 is Global Outreach Day
Visit www.globaloutreachday.com to find out more and to look at the different resources that they have available for Global Outreach Day 2014.
Rise Campaign Missions Survey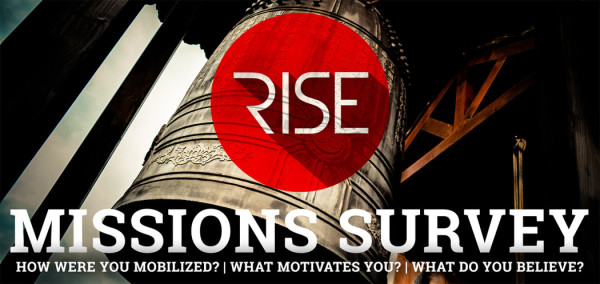 Since the Rise Campaign launched in July of 2013 they have been providing us with great content and resources for missions. As they continue to look at how they can serve Youth With A Mission they are running a Missions Survey …
So if you head over to risecampaign.com/survey it should only take you a few minutes to fill out the survey, and it will really help us as we move forward in developing resources, training, and opportunities for you to be even more involved in what God is doing in the nations …
YWAM South Sudan Update
Over 1000 cases of cholera have been diagnosed Juba and 27 people have died. Other cases have been reported outside of Juba, including in Yei. Please pray for the outbreak to be contained. Cholera is usually treatable, but it can lead to death and treatment may not be available in remote areas.
In the midst of sickness and war, there is also a large risk of famine in South Sudan:
This is a man-made disaster, and that is why we want the war to stop: [to] allow humanitarian access to the country," President Salva Kiir told the BBC. "The civilian population is going to face one of the worst famines there has ever been…." (source)
YWAM South Sudan Facebook Page.
YWAM Perth Homes of Hope
YWAM Perth has a great program to provide hope for the world's poor and powerless by building homes. The ministry is headed up by Aaron, and he'll tell us a bit more about this ministry …
Find out more about Homes of Hope at ywamperth.org.au.
YWAM Perth Birth Attendants School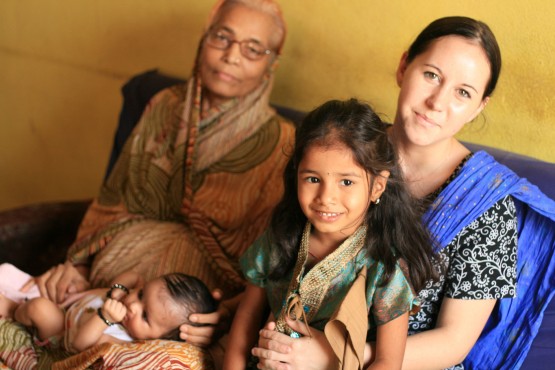 One of the other ministries running out of YWAM Perth is their Birth Attendant's School. It is the only school of its kind in YWAM worldwide and on their last outreach the school delivered 262 babies on outreach in Zambia and India.
Check it out at ywamperth.org.au.
Building an Aquaponics System in Kenya
YWAM Los Angeles has a large aquaponics system at their centre called a "Food Machine". In addition to that they also run a training program called Food for the Nations in July that teaches about biblical stewardship and the science of aquaponics.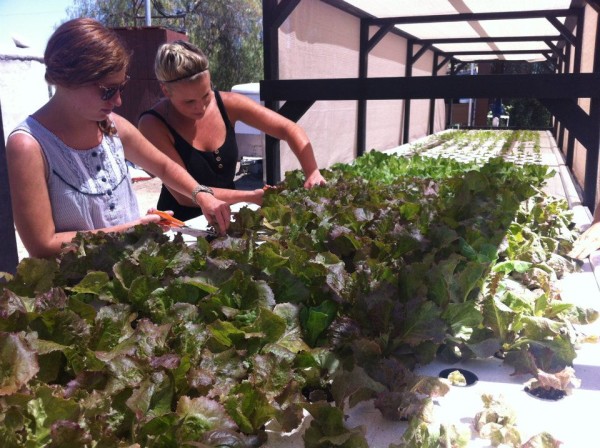 Recently an outreach team from YWAM Los Angeles built an aquaponics system in the Soweto-Kayole Slums in Nairobi, Kenya for an organisation called Sheep Care.
You can find out more about the aquaponics setup and the Food for the Nations training at the YWAM Los Angeles web-site, ywamla.org.
If you want to learn more about YWAM's use of aquaponics systems, we talked to Tim Bailey from YWAM Constanta in Romania  on episode 71 of the YWAM News Podcast, which you can listen to at ywampodcast.com/71.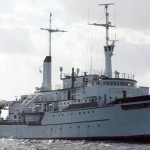 New YWAM Ship
On the last episode of the podcast we mentioned that YWAM was looking at acquiring yet another vessel to add to the YWAM Ships ministry. Things are progressing with that acquisition and they have set-up a Facebook Page and a crowd funding page as they move ahead with purchasing the Atlantis II.
Marine Reach Medical Europe Report
Back in the UK, thinking back with a big smile and thankful heart of another successful outreach in Albania. We saw almost 1000 people in 2 weeks time, running Dentistry, Optometry and Physiotherapy clinics
Joshua Generation – YWAM Pittsburgh
YWAM Pittsburgh will be hosting the Joshua Generation camp from July 20 – August 3 of this year.
Check out ywampittsburgh.org to find out more.
YWAM San Francisco Miracle
On the last episode of the podcast we talked about the immediate need of YWAM San Francisco to raise $500,000 to stay in their downtown facility in the Tenderloin district of San Francisco. So far they have received $236,000, plus another $106,000 in pledges, but they still need more to reach the amount needed to put down a deposit on the property.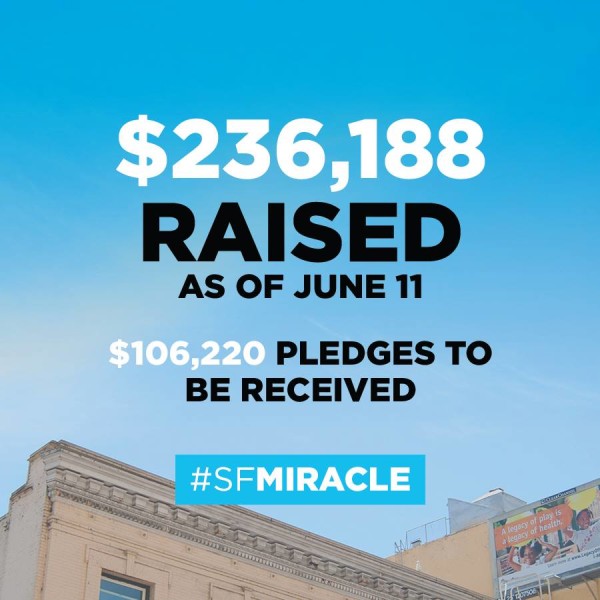 Visit ywamsanfrancisco.org/miracle for updates and to see how you can help.
YWAM Chaing Rai Expansion Project
YWAM Chaing Rai purchased their original property back in 1995. Since then the have built three buildings and recently they heard God tell them to "Enlarge the place of your tent …" (Isaiah 54:2).
You can find out more about this project at ywamchiangraibase.com.
Shine Live Music Festival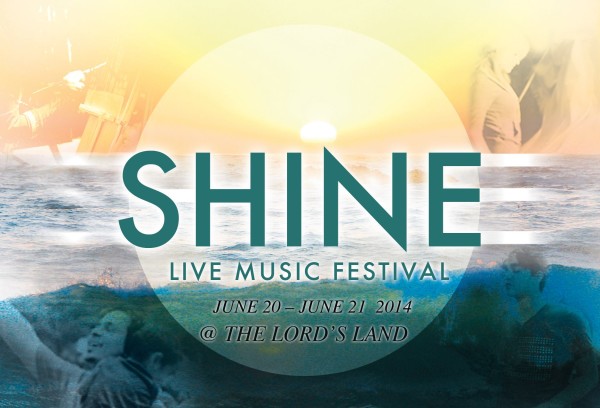 YWAM Mendocino Coast in Northern California will be hosting the Shine Live Music Festival June 20 – 21. The event begins at 6:00 pm on Friday night and goes until 10:00 pm on Saturday night at the Lord's Land retreat center. There will be late night prayer, worship sets, and lots of opportunity to encounter and respond to God.
Visit ywammendocino.org to find out more.
YWAM Kansas City Grand Opening
YWAM Kansas City, Missouri will be celebrating their city campus grand opening on June 21 with an open house from 3 – 10 pm. There will be opportunities to tour the campus, connect with others in ministry in Kansas City, explore the ministries of YWAM Kansas City, enjoy a BBQ, listen to live music, and more.
Visit ywamkansascity.com/events
YWAM En Croix Dance Camp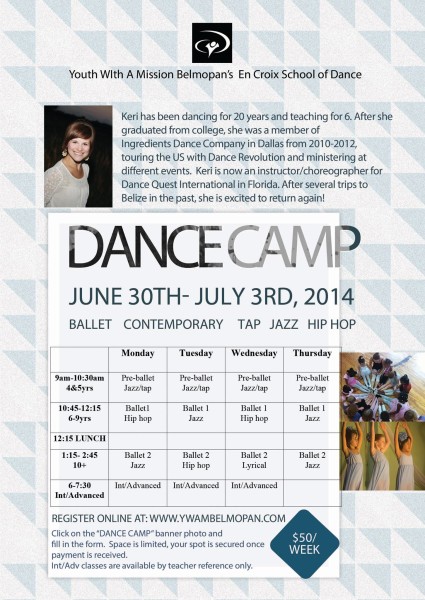 YWAM Belmopan in Belize will be hosting the En Croix Theatre of Performing Arts Dance Camp from June 30 – July 2. The will be teaching ballet, jazz, tap, hip hop, and contemporary dance to children who participate.
The dance camp will be lead by Keri Halvorson, who has been dancing for over 20-years, and teaching for the last 6-years.
Visit ywambelmopan.comand click on the "Dance Camp" banner to find out more and register.
YWAM Belmopan Legacy Summer Conference

Following the dance camp, YWAM Belmopand will be hosting the Legacy Summer Conference from July 3 – 6. The theme for this years conference in Realignment, A Call to Reposition our Hearts, and will be held at YWAM Banana Bank in Roaring Creek.
The conference is for youth from the ages of 13 – 25. The desire is to stir up the youth to embrace the challenge of reaching this generation, at home and across the world. There will be times of worship, prayer, small groups, workshops, teaching, and more.
Visit ywambelmopan.com/legacy to find out more.
UofN Kona School of Dance Studies
The YWAM Kona School of Dance Studies begins on September 15 and runs until December 17 …
Application Deadline for the school is June 25. You can find out more at  uofnkona.edu.
YWAM Amsterdam Summer of Service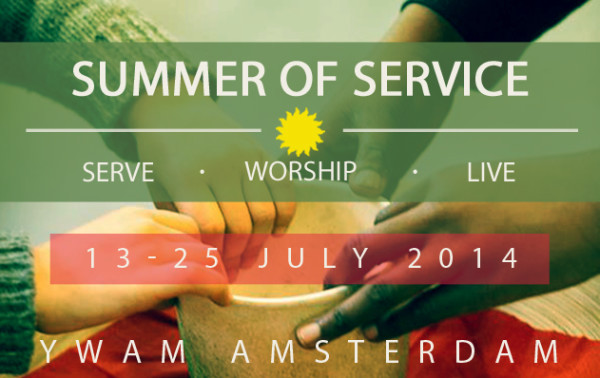 YWAM Amsterdam's Summer of Service is a two-week program beginning July 13 – 25 July where participants will worship, live, and serve in the city of Amsterdam.
Each day participants will gather together to worship, pray, and learn more about God's love through enthusiastic speakers and by diving into His word. During the week there will also be time spent painting, cleaning, and repairing the YWAM Amsterdam building, De Poort.
In addition to the practical work around the centre, there will also be plenty of opportunity to engage in evangelism and relationship building throughout the city of Amsterdam.
Visit www.ywamamsterdam.org to find out more.
YWAM Honolulu School of Biblical Studies Community Bible Course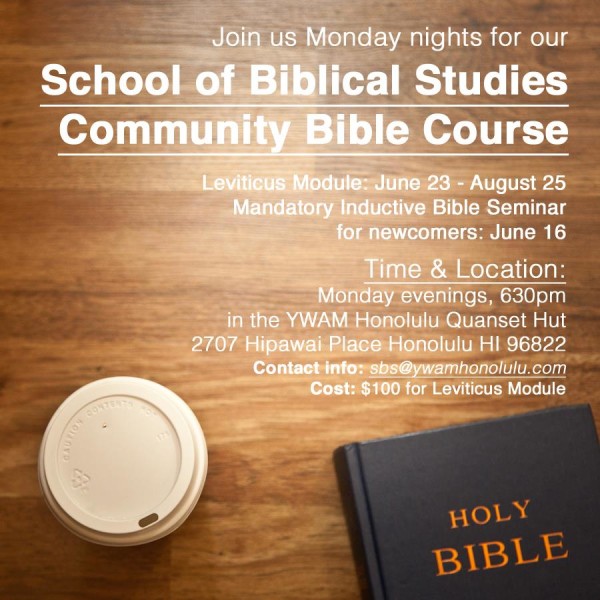 YWAM Honolulu will be starting up the next module of their School of Biblical Studies Community Bible Course on June 16. The course will run every Monday evening at 6:30 om and will run until August 25. This module will be diving into Leviticus.
YWAM Honolulu will also be running a module on the book of Numbers starting September 8, and Deuteronomy on October 6.
Find out more at www.ywamhonolulu.com/CBC.
YWAM Harpenden DTS Alumni Outreach
If you are a graduate of  a YWAM Discipleship Training school then you might want to have a look at YWAM Harpenden's upcoming DTS Alumni Outreach.
The outreach will run from July 22 – August 5 and will consist of 3 – 4 days of input, followed up by a 10-day outreach. The input time will include speakers, devotionals, worship, and further missions teaching.
The location for the outreach will be to Scotland, where you will be outreaching to the thousands of people who will be attending the Commonwealth Games that are being hosted there.
Check out ywamharpenden.org to find out more.
YWAM Ships Work at Kiribati Island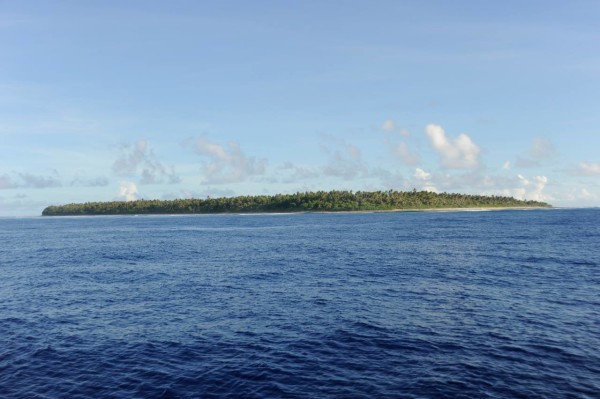 Kiribati is one of the World's most isolated and poorest nations in the world. It is named by the United Nations World Health Organization as one of the most medically needy countries on earth." From January to March this year YWAM Ships contributed 13,740 volunteer hours assisting their economy $188,208. We visited 29 villages, provided 63 women's health services, 362 primary healthcare services, and 237 vision care serves. Took teams to simply encourage, educate in basic health care, train inductive methods of study, in schools, in churches and to basically say – "you are not alone". 
You can follow along with the continued ministry of YWAM Ships Kona on their Facebook Page.
YWAM Brasil Impact Kickoff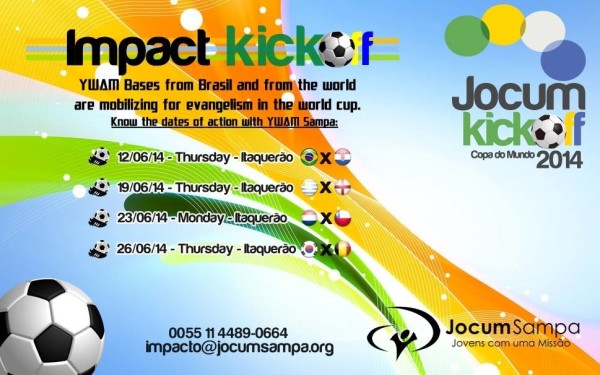 Friday is the start of the Fifa World Cup, and YWAM's Kickoff 2014 Evanglism campaign is also starting up. There are already teams from all over the world at the event, but there is still time to join them and to reach out to the nations during the 2014 FIFA World Cup in Brazil.
Head over to ywamkickoff2014.com to find out more about how you can join, and to follow along with what God is doing at the World Cup.
Roggenback Family – YWAM Thailand
The YWAM family, specially our teams in Thailand, are mourning the passing of a family of pioneers. Jeffrey and Jiin Roggenback were missionaries to the Karen, a people group in the border of Thailand and Mianmar. They were involved in a car accident on Saturday morning; their daughter Jasmine, 12 years old, also died. Please keep their family and the family of YWAM Thailand in your prayers.
The Roggenbacks had started a "Bamboo DTS"–a Discipleship Training School for the Karen people. What Jeff wrote on his website is a poignant reminder.
Missions… God can do anything through anyone surrendered to Him! To live is Christ… To die is gain!

The Bible says that all believers should take risks to live our lives totally for Christ; we are told to spend our earthly lives, even to the death, using all our money, all our time and all our strength for Jesus. Would Jesus really expect us to take that kind of risk? Jesus said, 'Don't be afraid of those that can kill the body…' Jesus told His beloved disciples that they would be persecuted and killed.

When someone takes a risk for Christ they could very easily die early; James died early by having his head cut off (Acts 12:2 ). Stephen died early being stoned, (Acts 7:59 ). But if you take that risk as they and many others did, Jesus will be standing up with arms open to welcome you home, as He did with his first martyr (Acts 7:55 ).

If you choose to take this kind of risk for the Lord, many of the people around you will tell you and most likely try to convince you that it is not wise to take such a risk…

… All I have to say is: Go back to the words of Christ from the gospels, remember your first love experience with God, put your hands over your ears (so you can't hear the multitude) and obey God with all your heart."
If you liked the program, tell a friend. If you didn't like it, tell a friend anyway …
Review us and Subscribe: