Podcast: Play in new window | Download | Embed
Subscribe: iTunes | Android | Email | RSS | More
Today we will talk about a YWAM Medical Team serving in Albania, Global Outreach Day, a Jesus Film Outreach in Malawi, Outreach opportunities in Europe this summer, an Aquaponics project in Romania and the YWAM America's Staff Gathering that took place last week in Panama.
Stories
Marine Reach Ministries Medical Team in Albania
Marine Reach Ministries based in the UK are currently on outreach in Albania. They have been partnering with the Youth With A Mission location in Elbasan in the centre of the Roma Gypsy community.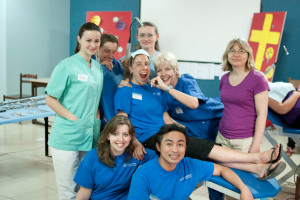 During the first two weeks there the team has been running a dental clinic at the YWAM Elbasan centre. They have been overrun by the needs of the people there during these two weeks. They have been treating children and adults alike, and also providing tooth brushes and education about proper dental care.
They team has also been able to visit a local mental institution during both weeks to help with the many needs there.
During the second week of outreach the team has also been doing eye screening for cataract surgery. They have found numerous possible candidates for the surgery. The next outreach that the team will embark on will be focused on Ophthalmology, and the process has now been started for these candidates to regain their eyesight.
While performing the dental and eye screening the team came across other illnesses like high blood pressure and diabetes. Although not planned, nurses from the team have been able to provide health advice and education to help the patients deal with their conditions.
You can find out more about the outreach on the YWAM Marine Reach Ministries Medical web-site, medicalmission.co.uk.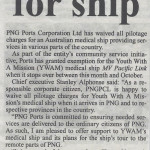 YWAM Ship MV Pacific Link has Arrived in Papua New Guinea
The YWAM Ship MV Pacific Link that is based out of Townsville, Australia has arrived in Papua New Guinea to begin it's six-month medical missions trip. While in PNG the staff, students, and volunteers from the ship will be helping with many different needs:
Primary Health Care

Optical
Dental
Find out more about what the MV Pacific Link is doing on the YWAM Ships Australia web-site, www.ywamships.org.au.
The Pacific Hope Preparing for First Medical Outreach to Palawan Island
After having been in the port for a bit of a refit the new YWAM Ship the MV Pacific Hope is heading to Palawan Island in the Philippines for their first outreach. They are partnering with the local Lions organisation for this outreach.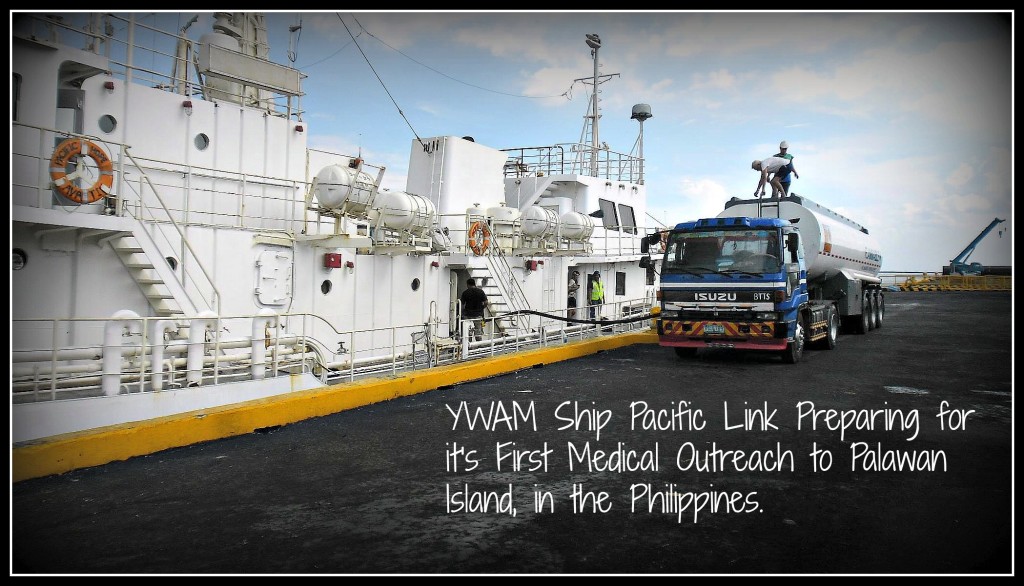 The Pacific Hope refuelling for her first medical outreach to Palawan Island in the Philippines organised with the local Lions organisation
While the ship has been in port they have replaced or repaired cooling units on the ship, stripped and repainted the top side of the vessel and much more…
The best place to find out what the MV Pacific Hope is up to is on their Facebook page.
Global Outreach Day
25 May 2013 is Global Outreach Day. The idea is that millions of people around the world would go out on that day and share Christ to their friends, family, and community. This is not a YWAM event, but rather an idea to mobilise the entire Church, every single believer, to step out in obedience to God to reach the lost.
Find out more about the movement, and how you can get involved, on their web-site, www.globaloutreachday.com.
YWAM Blantyre Jesus Film Outreach
YWAM Blantyre in Malawi is engaging with the people in their community regularly, in many different ways. The staff have been working in the region and they have seen many good relationships built, commitments made to God, and miracles. Here is a quote from a recent outreach to show the Jesus Film in a local village:
Last night we took our two visiting teams out to show the Jesus Film. God presence was powerful. 150 made commitments. A teenager unable to see clear enough to read since birth received his sight. An old lady bent over could straighten as the team prayed. One young girl was powerfully deliver and after many more healings we returned rejoicing.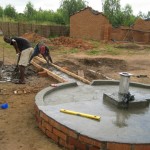 YWAM Blantyre is also running a well drilling seminar in July of 2013. The course will introduce students to the fundamentals of drilling for clean, safe, drinking water by the use of simple hand tools. The eight weeks will be split between hands on training in the field, including drilling several well, and discussion time in the classroom.
Find out more about Youth With A Mission Blantyre and what they are doing in Malawi on their web-site, www.ywamblantyre.com.
YWAM Skien Mission Adventures Testimonies
Over the years YWAM Skien in Norway has been involved in many different outreaches throughout Europe with their Mission Adventures program. Here are some testimonies from one of those outreaches:
You can read more testimonies on their web-site, www.ywamskien.com.
YWAM Skien has a few different outreach opportunities coming up in Europe this summer. They include:
One is a family camp with YWAM Denmark 20 – 27th to July, in need of male leaders, they will also go on an outreach possibly to Tallinn the week after.

The other is leadership for a team trip to Serbia from YWAM France (we have a Norwegian there sent from Grimerud) 5th – 21st of July.
You can contact them through their Facebook Page to find out more.
YWAM Constanta, Romania Aquaponics Project
In the last few episodes of the YWAM News Podcast we have discussed a few different sustainable projects that YWAM has been engaged in around the world. In episode 55 we talked about the Food Machine, which is being installed at three different YWAM locations, and on the last episode we talked about the reforestation project in Tanzania that YWAM is involved in.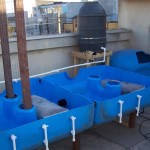 YWAM Constanta in Romania is also working on a project to help provide themselves with a more sustainable food source. They are currently in the process of building an aquaponics system to help provide them with food in a cheap and sustainable manner. In addition to building the system for their own use they desire to teach and train other people and organisations how to do it as well.
You can find out more about this project on their Facebook page.
YWAM Sustainable, Alternative and Green Ideas Group
YWAM Constanta has also started up a YWAM Sustainable, Alternative and Green Ideas group on Facebook. Their desire for that community is to bring YWAM staff, students and ministries together to look at how to address different problems to do with sustainability around the world …
To find out more, and to join the group, you can check out their Facebook group.
Student Mobilization Centre – What is Your Context?
A great look by John Henry, the Student Mobilization Centre (SMC) Director, at why we need to be in the context of the university communities…
New IPO Connection Training Course
The Student Mobilisation Centre is also launching a new, online, Internship Placement and Outreach course. The course is being taught using CourseSites by Blackboard, an online platform for organizing and securely sharing course materials, online lectures, discussion and other learning activities. Students from anywhere may sign up to join projects serving communities in need of help around the world.
For a limited time they are offering a free preview of the course as they develop and review it. To give you an idea about what the internship is, and how it works, have a look at the video below:
To find out how to sign up for the course you can visit them on their Facebook page.
Find out more about the Student Mobilisation Centre at www.studentmobilizationcentre.com.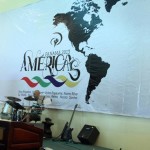 YWAM America's Staff Gathering
Last month YWAMers from North and South America gathered together in Panama to hear what God had to say and do during their time together. There were about 300 people there from North, South and Central America.
The four day gathering included the fir st and fourth day together as an entire continent, and the second and third day split into the different districts or countries.
You can read more about what happened during the conference from a letter written by someone from YWAM Canada here.
Community Development Seminar at YWAM Madison
YWAM Madison will be running a Community Development Seminar from August 19 – 30. The focus of the seminar will be on how basic necessities like food, water, clothing, shelter and health care can be provided for all people. They will look at a gaining a Biblical understanding of poverty and underdevelopment, and see what steps are needed to address these issues.
You can find out more about the seminar on the YWAM Madison web-site, www.ywammadison.org.
YWAM Podcast Archive wanting German Teaching
Over on the YWAM Podcast Archive, www.ywampodcast.org, you can find some great teachings from past and current YWAM leaders. In addition to English language teachings there are also multiple teachings available in Chinese.
The next language that the YWAM Podcast Archive is looking for teachings for is the German language.
If you have any YWAM teaching in German that you think could benefit the mission as a whole you can find out how to help make it available at de.ywampodcast.org.
Review us and Subscribe: