Podcast: Play in new window | Download | Embed
Subscribe: iTunes | Android | Email | RSS | More
YWAM Together begins in Townsville, Australia, YWAM Ships Australia has donated their vessel the Pacific Link to YWAM Ships Kona, Typhoon Sudelor causes widespread damage in Saipan, we hear about 8 mission trips hack from our friends at YWAM Louisville, and we hear about the launching of a new online relational fundraising course …
Welcome to the 93rd episode of the Youth With A Mission News Show Podcast, I'm your host, Bill Hutchison.
Stories:
YWAM Together Began Today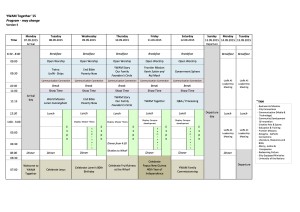 A massive gathering of YWAM staff started today in Townsville, Australia.
They had an incredible first day, and there are now over 1200 different staff and students from around the world attending the gathering.
If you, like me, aren't able to be there, then you can watch the sessions online at the live stream. Just head over to ywamtogether.org to check it out.
If you do check it out online you can hear Loren Cunningham talkd about World Missions, find out more about Youth With A Mission's history, and more. You can check out the full schedule on our web-site, ywampodcast.com.
YWAM Ships Australia ship the Pacific Link has been donated to YWAM Ships Kona.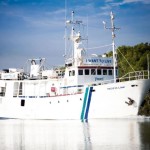 YWAM Medical Ships Australia has donated the MV Pacific Link to YWAM Ships Kona. The MV Pacific Link has served in Papua New Guinea since 2010 when it was gifted to YWAM Medical Ships Australia by Marine Reach New Zealand. The MV Pacific Link will continue with it's long service to the people in the Pacific.
Back in January the YWAM Ships Kona vessel, the Hawaii Aloha, was badly damaged in a large storm in the Hawaiian Islands. The damage to the ship resulted in the loss of one of the crew of the ship, 24-year old Aaron Bremner. Since that loss YWAM Ships Kona went through a bit of a slow down with their outreaches to the Pacific Islands, but that has turned around with the deployment of a partner ship, the s/y Cloud Nine, and the upcoming deployment of the M/V Pacific Link.
The M/V Pacific Link is due to be commissioned during the YWAM Together event, and will be deployed to the islands in November of this year.
Before being deployed the ship is needing some work done to prepare it for the work to be done. You can find out more at ywamships.net, including how you can be involved.
More on End Bible Poverty Now
A big feature of YWAM Together is a focus on Ending Bible Poverty …
Head over to endbiblepovertynow.org to find out more.
Typhoon Soudelor hit Saipan – YWAM Centre Damaged
Last month Typhoon Soudelor hit Saipan and caused extensive damage across the island. Many families lost their homes and property.
YWAM Saipan suffered quite a bit of damage from the typhoon, including:
Some building destroyed
Part of the main roof taken off
The water supply to their farm was lost
The grower house was blown off its foundation
An uprooted mango tree fell on one of the centres trucks
In addition to working on their own recovery, the YWAM staff have been busy helping the community to recover. They are wanting outreach teams to come and help with the long-term recovery.
You can visit their Facebook Page to find out how you can get involved.
Latest on YWAM Organic
YWAM Organic continues to put together stories from around the mission, and here are the latest …
Visit ywamorganic.org to watch the full stories, and to see more.
8 Mission Trip Hacks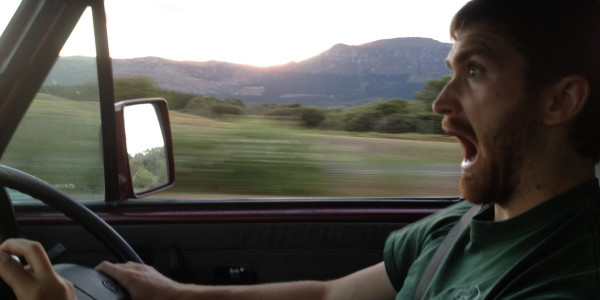 YWAM Louisville has put together 8 Mission Trip Hacks that are important for anyone heading on outreach, they include:
Tag your Luggage
Clothes in Your Carry-On
Eat Garlic
Take Toilet Paper
Roll Your Clothes
Squatty-Potty Help
Top-Down Bucket Showers
Take Winkie Juice
To find out the details of each of those tips, plus find out more tips and tricks from the YWAM Louisville staff and students, head over to ywamlouisville.org.
Free App for Outreach
I'm always looking for good resources to use on outreach, and "The Parting Gift" is something new that could be very useful:
The Parting Gift is a simple app for your smart phone or tablet that will help people to share their faith.
Head over to internetevangelismday.com to find out more, and to download the free app.
Inspire Worship and Missions Conference
YWAM Tyler Texas in Lindale, Texas will be hosting the Inspire Worship and Missions conference from March 11 – March 13, 2016.
Visit ywaminspire.com to find out more.
Free Relational Fundraising Course
Last year we did an online, live teaching with Terry Sherman about relational fundraising. Since then Terry has been working on developing an online relational fundraising course …
Head over to relationalfundraising.com to sign up for the free course.
If you liked the program, tell a friend. If you didn't like it, tell a friend anyway …
Review us and Subscribe: